Wednesday, October 23, 2013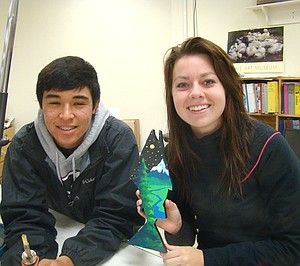 OKANOGAN — Three Okanogan High School art students have made ornaments that will hang on the 2013 Capitol Christmas Tree.
The tree will be harvested Nov. 1 in Pend Oreille County from the Newport-Sullivan Ranger District of the Colville National Forest.
Okanogan art teacher Dan Brown said Fabian Rodriguez, Lily Ade and Rafa Perez will have ornaments on the tree.
"I asked one class if they wanted to make them and these three said yes," Brown said.
Rodriguez and Ade made a wooden decoration with a salmon wood-burned on one side and a Washington scene painted in acrylics on the other, and Perez created a fused glass Christmas tree-shaped ornament.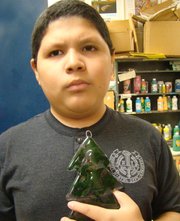 Youth from ages 5-19 were invited to submit ornaments. Those who submitted ornaments were entered to win a trip to Washington, D.C., to light the tree with House Speaker John Boehner at a ceremony in early December.
The Colville forest tree was selected in June by the superintendent of the capitol grounds. After being cut, the 88-foot-tall Engelmann spruce will be wrapped for its journey of several weeks visiting communities across the country before arriving in Washington, D.C., in time for Thanksgiving, the U.S. Capitol Christmas Tree website said.
Locally, stops are planned in Republic, Colville, Newport and Spokane.
The theme is "Sharing Washington's Good Nature."
The tree will be set up on the west lawn of the U.S. Capitol.
"It's a very beautiful tree, one that the people of this great state will be proud to send to our nation's capitol," Colville National Forest Supervisor Laura Jo West said.
The tree was chosen from among nearly 40 nominated. The list was pared to 10 trees that met all the requirements, including height, fullness, branch uniformity and site logistics.
Project organizers said the tree will be lit nightly from dusk to 11 p.m. throughout the holiday season.
The Capitol Christmas Tree is a project of the U.S. Forest Service and Choose Outdoors.
More like this story
Latest stories
Latest video: