Wednesday, October 23, 2013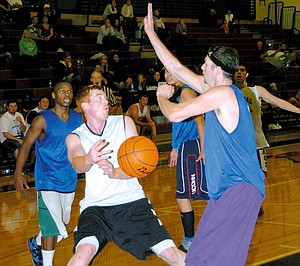 OMAK — Ask any player, the inaugural Omak Battleground Invitational basketball tournament was a great success Oct. 18.
"I think it is fantastic," said David "Pendo" Pendergraft, the former Gonzaga University star from Brewster. "It's great to be back home and give back to the youth. This helps something we love."
Pendergraft, 28, knows a little something about getting something started. He recently started his own business, Empire Ranches, which distributes locally grown food in the Spokane area where he lives.
He was named the tournament's most valuable player while competing with Draggoo Financial Knee Braces, which won, 76-45, over Jeremiah Riggle's Get Buckets in the championship.
The Braces were loaded with regional talent with Pendergraft, Braden Draggoo, Dave Mott, Ryne Phillips, Jacob Stevenson, Levi Heyen, Jordan Starr, Eric Vance, Wade Gebbers and Jerad Stevenson.
Several hundred watched games organized by Draggoo and Riggle, both Omak grads. Money raised will be used for community youth programs.
"It's a great community event," Gebbers, 23, said while playing for the Braces. "I hope it gets the support it deserves."
Gebbers graduated from Whitworth University last spring with a business management degree with a Spanish minor. He's now working with the Gebbers cattle business.
He remembers watching his father, Cass Gebbers, play in city leagues.
"They've gone away," he said. "I hope this brings basketball back."
Phillips drove from Zillah to play with his friends, several of whom competed on the state 1A championship a year ago.
"It's great what they are doing here," said Phillips, 29, who is the dean of students at the Zillah middle school. "I like seeing the people I played against in high school."
A familiar face to many was Heyen, 37.
The former Omak boys basketball coach will be in his first year at Cashmere this winter.
"There are some good teams here," Heyen said. "I'm involved with a 3-3 tournament Quincy. These kinds of tournaments bring a community together."
The Buckets included Roy Osborne, Malik Rogers, Tony Louie, Rocky Gipson, Gabe Aubertin, Sonny Sellars and Nick Verbeck.
"I had a great time," Osborne said. "There were good refs and good competition. I am definitely coming back next year."
"I love the competition and atmosphere," said Gipson, who graduated from Brewster in 2007. "This was the best tournament this year for me, by far."
The Descendents, with captain Jayme Brashears, needed a last-second trey to take third over UWMA (Until We Meet Again) with captain Blake Marchand.
The teams were tied, 52-all, when Kevin Kemp, son of NBA's Shawn Kemp, let loose a couple steps beyond the arc for a banked 3-pointer at the buzzer for the victory.
"He was pretty athletic," Riggle said of Kemp.
"It was from the left side," Draggoo said. "He nailed it. It was from NBA range."
"I thought it was a great tourney," said Kemp, who graduated from Arizona State in 2007. "I hope it goes on for years to come."
"There were a lot of people coming together to have fun for the weekend," said Brashears, a 1991 Lake Roosevelt graduate. "Keep up the hard work."
In the finals of the consolation bracket, composed of teams losing their first games, the Warm Springs Warriors from Oregon beat Rez City from Yakima.
Also from the Braces, Jordan Starr was named Mr. Hustle and Jared Stevenson as the top 3-point shooter.
Plans are to bring back the tournament next fall, perhaps a bit earlier in September before college programs gear up, Draggoo said.
"We want to bring in more college players," he said.
Several games were not decided until the final seconds.
"Overall, the tournament was competitive," Draggoo said. "People left happy with the competitive level.
"Next year we are going to make this a bigger and better tournament. We have lots of ideas that will make it even cooler."
"It was definitely fun basketball for both the players and the fans," said Swede Albert, a 1999 Omak graduate. "I'm looking forward to next year."
"I plan on participating for many years to come," Pendergraft said.
"It is wonderful to come back to the community you were raised in, play the sport you love with friends you love being around," Pendergraft sasid. "All for a cause that supports our youth."
More like this story
Latest stories
Latest video: