Wednesday, October 23, 2013
"Prost!"
The German equivalent of "cheers," accompanied by folks clinking beer steins together, rang out over and over again during the third and final weekend of Leavenworth's Oktoberfest celebration.
I'd never been to Oktoberfest before, but since our son was playing trumpet with Musikkapelle Leavenworth, the Bavarian village's town band, the time seemed right.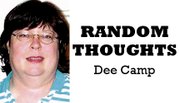 The band performs at the town's major festivals and activities, and makes out-of-town appearances. Its repertoire includes marches, waltzes and polkas.
On Saturday afternoon, accordian player Max Kyllonen performed as the crowd began wandering into the huge Festhalle, which was outfitted with long rows of tables and benches.
Folks munched on brats with sauerkraut, pulled pork sandwiches, huge turkey legs and other goodies — and also started quaffing beer. Although the beer was served in plastic cups, most people poured their brews into giant steins.
As Musikkapelle marched in, playing a jaunty tune, the crowd was on its feet, clapping along with the beat. Then came the ceremonial keg tap, with Mayor Cheri Kelley Farivar wielding the bung mallet.
Musikkapelle played a two-hour set, followed by the Silver Stars of Vancouver, B.C., Muenchner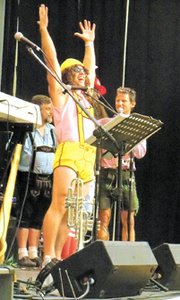 Kindl of Munich, Germany, and the Gordanairs of Surry, B.C. Several more bands performed after that, but we bailed out and headed home.
As the afternoon progressed, the crowd became more and more lubricated by the beer, much of it imported from Germany. It would be interesting to see a tally of how much was consumed, but I wouldn't hazard a guess since there were thousands of people in town.
People toasted, they drank beer; they danced, they drank beer; they ate, they washed it down with beer; they visited and they drank more beer.
But despite all the suds, the crowd was cheerful and friendly. Young, old and in between, people of every race, folks with small children, singles, couples — everyone seemed to be having a good time.
One man, who I'd guess was in his late 60s, danced with more than a dozen pretty young women. He'd dance with one, take her back to her seat and then emerge from the crowd with another in tow.
The Chicken Dance was a crowd favorite — every band we saw, except the highly choreographed group from Germany, did a version of the song. Picture hundreds of drunk and semi-drunk people dancing around like chickens.
Then there were the hats. Many people wore Tyrolean hats, but the sky was the limit for head gear. There were beer mug, chicken, balloon, Viking and jester hats, along with some that carried a couple beers and were outfitted with plastic tubing straws and at least one with a knit cap and fake dreads.
Clothing styles knew no bounds, either. Lederhosen, check. Skimpy Bavarian dresses, check. T-shirts emblazed with "Drunk 1" (accompanied by Drunks 2 through 4), check. A baby in a chicken outfit, check.
One of the bands called three folks out of the crowd to the stage for an alpenhorn-blowing contest. One guy was in bright yellow short-shorts with a lederhosen design (he wore a matching hat and long-hair wig); another wore a beer-and-tubing hat, red shorts and suspenders made of duct tape. He said he was from Kenya.
They reminded me of an updated version of The Village People.
Outside, the crowd filled the street and three large tents with more entertainment. Dozens of vendors sold hats, beer steins, elephant ears, beer and various tchotchkes.
Although we were there for the better part of the day, I feel like we just scratched the surface of Oktoberfest. I want to go back.
Dee Camp is a reporter at The Chronicle. She can be reached via email at dcamp@omakchronicle.com.
More like this story
Latest stories
Latest video: