Originally published October 18, 2013 at 12:51p.m., updated October 18, 2013 at 12:52p.m.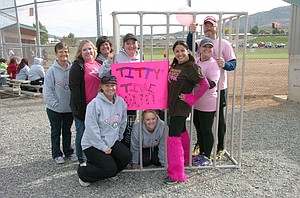 WINTHROP — For the seventh year, cancer survivors are invited to participate in a workshop this weekend at Sun Mountain Lodge, 604 Patterson Lake Road.
The Cashmere-based EASE Cancer Foundation organizes the "Journey to Wellness" event, which this year will take place Oct. 11-12.
The foundation offers 40 slots for the event, and space is still available, according to Katie Kemble with EASE.
"We're kind of trying to fill a gap of care you really can't get in other areas in the valley," she said. "It's really specialized. It goes way beyond what you would get in your physician or primary care provider's office."
EASE, which stands for Exercise and Survivorship Education, offers workshops throughout North Central Washington that focus on fitness, nutrition and management of cancer symptoms from depression to "chemo brain," according to the non-profit group's website, www.easecancer.org.
The workshop kicks off with dinner at 6 p.m. Friday and the first of several classes at 7 p.m., "Relationships: Sleep, Stress and Fatigue" by Tim Burnham. Brian Ohme, billed as "Sum Guy," will play live music afterward.
Burnham will also host a seminar on weight management at 8 a.m. Saturday, before participants split up for the day to attend separate workshops.
Workshop selections throughout the day include: therapeutic and restorative yoga, whole food cooking, Pilates, "The Great Outdoors," lymphedema risk reduction and massage, stress management and recipes.
"We always offer something a little bit different every single year," Kemble said. "Because one shoe doesn't really fit one person, we try to offer a little bit of something for everyone."
The foundation outlines how each class benefits cancer survivors.
For instance, exercise assists with depression; difficulties sleeping can impact immune function and memory; yoga relieves joint stiffness while Pilates boosts strength, and recipes include cancer-preventive ingredients.
Classes are led by seven health care and education professionals, from a dietician to physical therapist, a professor of exercise science and an occupational therapist who specializes in working with cancer survivors.
The weekend will wrap up with evaluations at 5 p.m. Saturday.
A fee is charged for the two-day event.
More like this story
Latest stories
Latest video: