Wednesday, October 16, 2013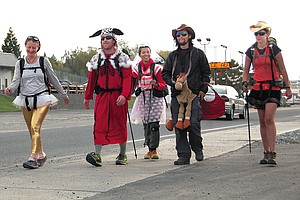 OKANOGAN — Trails in the Okanogan and Colville national forests remain open during the federal government's partial shutdown, but campgrounds and trailhead facilities are closed.
National Park Service facilities, on the other hand, are closed. Those include the North Cascades National Park Complex and Lake Roosevelt National Recreation Area.
The U.S. Forest Service has a skeleton crew still working to monitor for fires and campground security.
Last week, hikers on the Pacific Crest Trail complained that winter weather and federal closures combined to force them off the trail and onto U.S. Highway 97 for the last portion of their Mexico-to-Canada trek.
The trail is closed along the stretch that goes through the national park. Hikers can rejoin the trail at Rainy Pass on the North Cascades Highway and hike through to Canada, although snow now blankets higher elevations .
Okanogan County Sheriff Frank Rogers said he's aware of the federal campground closures, but hasn't been asked to help keep people out.
He said some people are ignoring Forest Service signs and setting up camp in the campgrounds anyway.
"Nobody has said 'kick them out.' We won't enforce it if they do," he said.
The partial shutdown irritates him, since the land belongs to the public, not the government.
"I'd love to see who's going to come enforce that," he said.
More like this story
Latest stories
Latest video: