Wednesday, October 16, 2013
I've been following, with some amusement, the controversy over Ol' Crimson's appearance on last Saturday's "College GameDay" show on ESPN.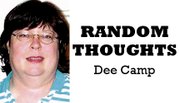 A Washington State University Cougar logo flag has flown on every "GameDay" show since Oct. 18, 2003. That's a pretty great record of alumni and friends taking the flag to the show's various locations and waving it aloft before a national TV audience.
Saturday's appearance proved problematic, since "GameDay" was being broadcast from archrival University of Washington's Husky Stadium.
"Will 'College GameDay' WSU flag cause ruckus in Montlake?" barked a Seattle P-I headline last week. The Husky-slanted blog even included a poll asking, "Do you think Ol' Crimson should fly this Saturday?"
To the readers' credit, a majority said yes, but most of those yes votes were with reservations: "This is Washington's Day." A few die-hard purple-and-gold fans said they'd rather not see it, while 12 percent of respondents said, "No! No crimson allowed!"
There were threats to kidnap the flag, prompting ESPN to promise safe passage for the flag and its bearers.
In the end, Ol' Crimson and its entourage arrived on the University of Washington campus in a stretch limo provided by the Ol' Crimson Booster Club and accompanied by a police escort. They parked in a pre-arranged spot and camped out until it was time to head into the stadium.
"Nobody knew it was us," flag bearer Kyle Nash said on the WSU athletics website. "Husky fans were lining up. They thought it was the guest picker, or (rapper) Macklemore or somebody was going to get out of there."
Every so often, an ESPN producer would drop by with a timing update.
In the end, Ol' Crimson got some boos, but also a lot of respect, the school reported.
That's more than the UW football team got from No. 2-ranked Oregon, which trounced the Huskies 45-24.
Ol' Crimson's success and Oregon's victory helped take some of the sting out of that evening's Cougar game. The team "Couged it" again, snatching defeat out of the jaws of certain victory by blowing a 24-17 late third quarter lead to lose to Oregon State 52-24.
There's always next week. Maybe the Cougs can be the spoiler when they head to Eugene to meet Oregon on Oct. 19.
Sure, it could happen.
Dee Camp is a reporter at The Chronicle. She can be reached via email at dcamp@omakchronicle.com.
More like this story
Latest stories
Latest video: