Wednesday, October 16, 2013
WINTHROP — There were not many hunting complaints, possibly due to not many hunters, following the state's modern firearm deer opener Oct. 12.
"All in all, the hunting season opener wasn't that bad," Sheriff Frank Rogers said. "We had a few calls, but not a lot. I noticed a few calls on the complaint log, hunters trespassing mostly. I am not sure how it went for the game guys."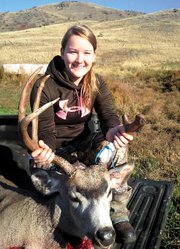 Scott Fitkin, the state's Omak district biologist, checked 107 hunters at the Red Barn check station with 30 deer.
"One buck measured 30 inches," Sgt. Dan Christensen said. "We found that enforcement issues were limited."
Fish and Wildlife agents issued 12 citations for loaded firearms in motor vehicles, open containers of alcohol in a motor vehicle, improper tagging and state lands use violations.
"In the past, we used to write a little over 100 citations on opening weekend," Christensen said. "This appears to be due to a lower turnout. I would estimate one-third of the hunting numbers we used to see."
He noted there were less officers working the region.
"Of the hunters who are in the area, they have tended to be the good 90 percent of our hunting community," Christensen said. "The 10 percent we usually focus on did not appear to be out and about."
He checked with the county dispatcher and found only four calls related to hunting issues for the weekend.
"This was one of the lowest reports of trespassing I can remember," Christensen said, who has worked this area for either the Sheriff's Office or state Department of Fish and Wildlife since 1992.
There appeared to be more hunting pressure on state Fish and Wildlife land in the Methow Valley, Christensen said.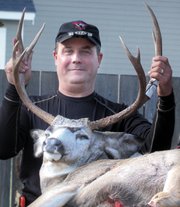 Christensen speculated the low number of problems may be related to a new fish and wildlife law concerning hunting or retrieving wildlife while trespassing.
"The hunter now loses their deer or elk and is suspended from hunting for two years," he said. "This new law may be having an impact on those not willing to respect other's private property. This is the second year of the law.
"We have had reports and we have several ongoing investigations of two-point mule deer shot and left to waste. I have had a few calls on Monday of trespassing that were not called into a call center during the weekend. "
There were no reports of injuries or injured hunters for the weekend opener, Christensen said.
"We will see what the mid-week and the second weekend bring us," he said.
More like this story
Latest stories
Latest video: