Originally published October 15, 2013 at 11:29a.m., updated October 15, 2013 at 11:29a.m.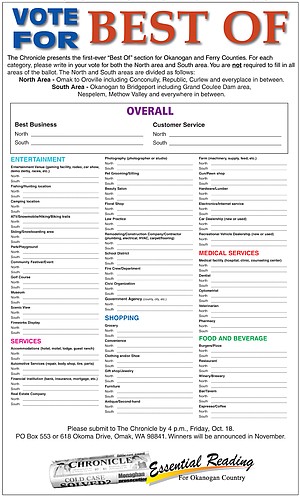 OMAK — Newspaper readers have a chance to recognize the best businesses, venues and recreational areas in North-Central Washington in the annual "Best Of" competition.
Have a favorite burger place or pizza parlor? Vote for them. How about a favorite event venue, dentist or attorney? Nominate them, too. There are numerous categories to choose from.
The Chronicle's contest is divided between the northern and southern portion of our vast coverage area.
Northern ballots cover from Omak to Oroville, Conconully, from Tonasket east to Republic, Curlew and Inchelium, and every place in between.
Southern ballots cover Pateros to Okanogan, Bridgeport, Nespelem, the Grand Coulee area, the Methow Valley and all places in between.
"Best Of" ballots can be found in The Chronicle newspaper, BottomLine shopper and on our website and Facebook pages.
Pick up or download a ballot and return it to The Chronicle prior to 4 p.m. Friday, Oct. 18.
Winners will be announced in November.
More like this story
Latest stories
Latest video: