Wednesday, October 9, 2013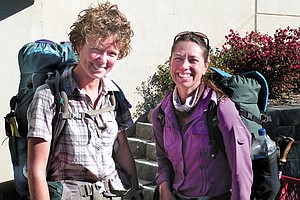 OMAK — Pacific Crest Trail hikers will be streaming through the Okanogan Valley this week after being chased out of the Cascade Mountains by government officials and snow.
Kellie Bolger of Oceanside, Calif., and Noleen Read of Cape Town, South Africa, met last spring on the Mojave portion of the trail in California.
Numerous hikers on the Pacific Crest Trail keep in touch via text or postings on Facebook. Those reports included hikers being turned away by government officials posted at trailheads to government land.
The hikers were told if they entered government land they would be arrested for trespassing, Bolger and Read said.
Read, 37, started the trail April 28. Bolger, 43, started in May. They soon joined on the Mojave portion of the trail near the Sierra Crest.
The area includes the highest portion of the trail, Forester Pass in the Sierra Nevada at 13,153 feet (4,009 meters).
The women were in Omak on Oct. 7, with a vanguard of more trail hikers to come.
The Pacific Crest Trail runs 2,663 miles (4,286 kilometers) through Washington, Oregon and California. The trail's southern terminus is on the U.S. border with Mexico, and its northern terminus is on the U.S./Canada border.
The route passes through 25 national forests, seven national parks and at least one wilderness, the Pasayten within Okanogan County.
Pacific Crest Trail hikers in Chelan on Monday were reportedly heading through the county sometime this week while protesting the government's ending their attempts to finish their hikes on the actual trail.
Bolger, whose trail name is Hippie Long Stockings, and Read, whose trail name is New Orleans, said they dropped off the trail around Stevens Pass. They had since worked their way to Wenatchee and then to Omak.
"We encountered heavy snows on Stevens Pass," said Bolger, who said neither of them had snowshoes so could not continue.
A day before the women hiked out, a man on snowshoes had continued.
"He said it was unrealistic to continue on the trail," said Read.
But with warmer weather, the trail might have been clear enough for a fast trek to Canada — except for reports that hikers were threatened with arrest.
The plan for hikers is to head up U.S. Highway 97 to Canada and then west to E.C. Manning Provincial Park for final photo taking and completion of their treks.
Manning Park marks the northernmost end of the trail, which opened in 1968 and was completed in 1993.
"We will still reach the border, just not in our traditional ways," Bolger said.
Both said hiking along the highway has proved much more difficult than traversing mountain trails.
"It's scarier than being in the middle of nowhere with animals," Bolger said. "These long flat roads are getting to us."
"I had no physical problems on the trail," Read said. "One day along the highway and I am hobbling. This is an adventure on the road."
This was Read's first attempt on the Pacific Crest Trail. A potter by trade, she's completed other hikes including the Camino Santiago in Spain.
Her favorite parts of the Pacific Crest Trail were side treks up Mount Adams and Mount Whitney.
"Mount Adams is absolutely awesome," she said.
Bolger, who bartends in Bonzall, Calif., is a veteran hiker.
"I like to say I have more than 300,000 miles on my car and 17,000 on my feet," said Bolger, who has done the Pacific Crest Trail once and the 2,200-mile Appalachian Trail three times.
"This is the most exciting ending," she said of her hiking.
Small adventures for the pair including finding an Oroville woman's wallet near Omak and deciding not to pick an apple off a roadside tree.
"We've been given so many apples since then," Bolger said with the sound of surprise.
Not every hiker was wise enough to get out of the mountains when snow arrived.
A 23-year-old Oregon woman was reported missing on the trail in southwest Washington. She was located Sunday. She hunkered down sheltered by trees with a fire until she was able to hike out Sunday, reports said.
Snow also apparently caused a problem for a 31-year-old Portland, Ore., man. A search was suspended on the weekend after he was not located in the Big Lava Beds area of the Gifford Pinchot National Forest.
Two other hikers were rescued last week from the snow-laden Pacific Crest Trail.
The recent snow allowed Crystal Mountain and Stevens Pass to open for the ski season last weekend.
More like this story
Latest stories
Latest video: