Wednesday, October 9, 2013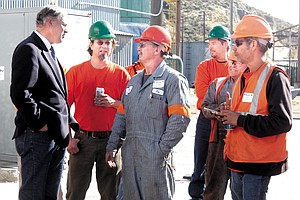 OMAK — More than 100 community leaders and mill employees celebrated the much-anticipated reopening of the Omak Wood Products plywood mill Monday.
Among the attendees was Gov. Jay Inslee, who touted the mill's reopening as not just an important event for Okanogan County, but for the entire state.
"The most exciting place to be in the state of Washington today is right here at Omak Wood Products," Inslee said. "There's no better example in the state of Washington of teamwork than right here. This is exciting to me. This is handing it off to the next generation."
For Richard Yarbrough, president of Omak Wood Products, Monday marked the culmination of more than three years' worth of negotiations and work to get the mill back up and running.
"I've done nothing in my career as meaningful as this," Yarbrough said. "I'm pleased to welcome you all to the grand reopening of the mill. This is a mill town. It's been a mill town since 1921. A lot of people put in a lot of work into this thing. I'd like to personally thank the community of Okanogan-Omak. It's good to be in a community that wants to partner with you in a business venture."
Colville Business Council Chairman Michael Finley said it took "dogged persistence" to restart the mill.
He said there was a time when scrapping the mill was considered by the tribe, which owns the mill.
"It has been very challenging," Finley said. "The timing is right to go down this road. It's putting our people back to work."
The first official steps to reopening the mill at 1100 E. Eighth Ave. began in March, when Atlas Holdings and Wood Resources — the parent companies of Omak Wood Products — signed a 25-year lease and log supply agreement with Colville Federal Tribal Corp.
But the desire to restart operation had been running strong since the mill shut down on Jan. 16, 2009, when it was known as Colville Indian Plywood and Veneer.
Colville Tribal Federal Corp. board member Gene Nicholson was part of the group that made the decision to shut down the mill.
"It was a tough decision," Nicholson told the gathered crowd. "We really wanted the jobs."
Nicholson said the board thought a deal had been in place about three years ago, "but it went south," he said. He credited Atlas Holdings for having the patience necessary to see the deal get completed.
"There'll be some bumps in the road, but we'll get through it," Nicholson said.
The Omak Wood Products mill currently has 87 people on its payroll. About half of those were former mill employees, Yarbrough said.
Mill officials expect about 100 employees by the end of the calendar year. About 230 people were laid off when it shut down in 2009.
Yarbrough said the company has invested $3 million in the past 80 days to get the operation up and running. He said the mill's employees have been "world class."
Of the employees who have been hired in the past six months, only two have left, Yarbrough said.
Without the local employees, "we wouldn't have gotten this mill turned around in 90 days," Yarbrough said. "Local people have been tremendously supportive of us. For every employee, four or five others (in the community) will have jobs. In 90 days, we've taken every piece of machinery apart. I'd put this crew up against anybody."
Yarbrough said he was told the mill would have a hard time finding employees who weren't on drugs, could do the job and show up on time.
He called that statement "nonsense."
"We've found many people who are qualified," he said.
Currently the mill is only producing veneer. Plywood production is expected to begin in the coming months.
The agreement between Colville Federal Tribal Corp. and Wood Resources includes a 10-year initial lease, followed by three five-year extensions, in addition to the log agreement for up to 40 million board feet of timber.
Inslee said the mill's reopening is "important to the whole state. It's really encouraging to see the mill get going. It took leadership. If you can get multiple parties aligned, good things can happen."
Nicholson said usually when the governor shows up in Okanogan County, it's because something bad has happened, but that was not the case on Monday.
"We're back and I think we're going to be staying for a long time," he said.
Inslee said the mill's reopening is a "success story in the state of Washington" and an example of how to create jobs throughout the region.
"Just having people work in the shade of the Space Needle isn't good enough for me," he said.
More like this story
Latest stories
Latest video: