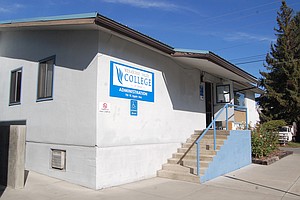 WENATCHEE — Wenatchee Valley College has been awarded a federal grant of more than $2 million to improve and strengthen academic quality, institutional management and fiscal stability.
The college operates campuses in Omak and Wenatchee.
The U.S. Department of Education Title III grant is for $2.17 million over a five-year period. It was originally set to launch Oct. 1, but will begin once federal government operations resume, the college said.
Title III grants help institutions of higher education to become self-sufficient and expand their capacity to serve low-income students.
WVC will use the money to increase student transition, retention and completion through comprehensive efforts to improve the use of data in decision-making and redesign programs and services to increase student access. The work will be done in alignment with the college's Core Themes, Strategic Plan and accreditation standards.
WVC students face barriers of geography, cost, time and preparedness for college-level work.
Among the planned projects are development of a Chicano studies curriculum, expanded online programs and retrofitted classrooms to incorporate new technologies and flexible classroom design..
More like this story
Latest stories
Latest video: