Wednesday, October 2, 2013
"Are you at your computer? Go to the Department of Transportation webcams and look at Mount Rainier," said the voice on the phone.
I followed my son's instructions and was greeted with a chilling scene: Snow covered the parking lot shown on the webcam.
I'm not a fan of snow and I'm not ready for winter. Wasn't it super-hot just last week or maybe two weeks ago?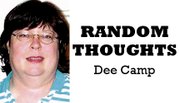 Heck, I'm not even ready for fall.
Our grapes are ripe and begging to be picked and made into juice and jelly, but rainy day after rainy day delayed picking.
Some finally got picked on Sunday and made into juice, but we found ourselves short on sugar and canning lids — again, not ready for fall and all it entails — so the juice went into the freezer.
I have the best of intentions for thawing it out — soon — and making jelly.
Meanwhile, the rest of the grapes languish on the vines, which no doubt soon will turn color. Can frost be far away?
Along with an increasing (and alarming) number of Christmas commercials on TV comes an explosion of fall comfort food recipes on TV, the Internet, magazines and newspapers.
You'd think pumpkin was the only vegetable being grown.
From pumpkin bars to pumpkin spice chai tea, those orange orbs are everywhere.
What I object to most about winter isn't necessarily the snow, but how darned cold the temperatures dip.
I guess my metabolism has changed over the years. I find myself putting on a sweatshirt or sweater at times when other people are panting from the heat. A hot car in the summer doesn't bother me most of the time.
We flipped the thermostat from "cool" to "heat" last week. The cats have snuggled up a little closer at night.
Last weekend brought a steady stream of drizzle, wind, downpours, more wind and — did I mention? — rain.
We broke out the space heater. Within minutes, the cats were vying for position in front of it.
It's too soon. There's still lots to do before the coldest of fall days or even winter set in.
The lawn could use one more mowing. Hoses need to be drained and brought inside. The barbecue is still on the patio. The car needs weatherizing.
Could we convince Mother Nature to take a time out and put the seasons on hold for a couple weeks until we catch up?
Dee Camp is a reporter at The Chronicle. She can be reached via email at dcamp@omakchronicle.com.
More like this story
Latest stories
Latest video: