Wednesday, October 2, 2013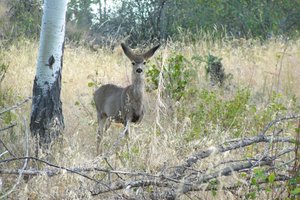 There has been some mention of the greatest gift man can give. It has come up in connection with animals, too.
This comes from a story I read decades ago in one of my husband's magazines.
A couple was homesteading in the far north. Alaska? British Columbia? I don't remember.
One night they heard a peculiar noise on the porch and went to look. A gaunt, trembling deer was trying to reach some greens they had hung up on the porch. When they went to the door, he left.
They took the greens down to the floor level and went back inside, and the deer came and ate them. They began to leave feed out for him, and he became a regular customer, becoming so used to them that he did not run when they came out.
One night, when her husband was away, she observed a man with a rifle approaching the house. Picking up a pistol, which she hid under her clothes, she went out and asked him what he wanted.
"Well," he said, "I heard that you had a pet deer and I came down to have a look at it."
"With that?" she asked.
Not satisfied with his wicked smile, she whipped out her pistol and told him to march. He stared at
the barrel of the gun pointed at him and at the determined woman behind it, and turned and left.
Later, he told people at the local store that those folks down at the lake would as soon shoot you as look at you.
The family went on with its life in the wilderness and the deer, whom they named Ruben, one day showed up with a young deer, little bigger than a fawn. And then came the climax of both lives.
Ruben realized, one day, that the young deer was being tailed by a wolf.
The youngster knew it, too, and tried to evade his tracker.
But this was an experienced wolf. The wolf was closing in on the youngster, who then made the mistake of starting across the frozen-over lake. It would be a fatal mistake, for the deer's little hooves would slip on the ice, and the wolf would easily overcome him.
Later the family read the story in the snow and tracks on the ice. Ruben overtook the young deer and cut his trail across that of the youngster.
The wolf followed the fresher track. Later, the man, following those telltale tracks, found what he had known he would — the end of the story of his friend.
It might be nice to report that another such human-animal friendship developed, but in the wilderness this is not frequent.
We cherish them when they occur, and try to be grateful.
Elizabeth Widel is a columnist for
The Chronicle. This is the 2,855th column in a series. She may be reached at 509-826-1110.