Wednesday, November 27, 2013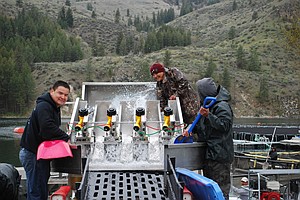 NESPELEM — Pacific Seafood is donating $10,000 in turkeys to the Colville Tribe's Food Distribution Program through the end of the year.
Pacific Seafood raises steelhead in a net pen operation on the Columbia River.
"This turkey donation gives our team at Pacific Seafood a great sense of pride and joy knowing we are able to help families in need throughout the reservation during the holiday season," farm manager Bill Clark said.
Pacific Seafood employs several members of the local community, including many tribal workers.
Company CEO Frank Dulcich wants to provide a turkey to every tribal family living in the community this holiday season, Clark said.
More like this story
Latest stories
Latest video: