Tuesday, November 26, 2013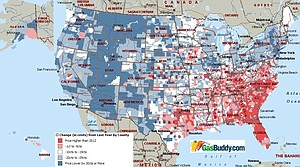 OMAK — Families traveling out of the area this Thanksgiving week should see the price at the gas pump several cents lower than a year ago.
In Okanogan, regular unleaded gasoline retails for a low of just under $3.17 per gallon at Flying B, 2024 Elmway, as of Tuesday morning. In Omak, the same gasoline was selling for a low of about $3.19 per gallon at Stampede Mini Mart, 111 E. Riverside Drive.
Several other area service stations are selling regular unleaded for just under $3.20 per gallon, including Beaver Trap II, 205 Second Ave. N. in Okanogan and the truck stop at 800 E. Riverside Drive in Omak.
Diesel costs a low of about $3.90 per gallon in the Omak-Okanogan area.
According to GasBuddy.com, the price at the pump in both Okanogan and Ferry counties is more than 30 cents per gallon cheaper than it was at Thanksgiving last year.
The national price for gasoline this Thanksgiving will average $3.27 gal, a whopping 16 cents per gallon less than last Thanksgiving, and 5 cents per gallon cheaper than 2011, GasBuddy.com reported.
Some states are seeing much greater savings than others, according to the website.
Residents of Utah can give thanks to average fuel prices that are 50 cents per gallon below Thanksgiving 2012 and Rocky Mountain states all find deals some 10 percent or more below last year, the website reported. The East and Gulf Coasts, meanwhile, see fuel costs similar to last year.
According to the website, a major reason in the lower fuel cost is that U.S. companies are producing 1.25 million barrels per day more of crude oil than last year and 2 million gallons per day more than in 2011.
More like this story
Latest stories
Latest video: