Thursday, November 14, 2013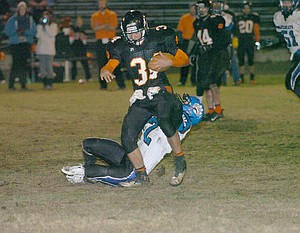 REPUBLIC — The Rosalia at Republic football playoff game will start at 2 p.m. Saturday.
The high school 1B district game had been slated for 1 p.m.
"We are changing the game time for Saturday to 2 p.m. to give Rosalia more travel time with the prediction of inclement weather," Republic Athletic Director Burl Coffee said.
Republic enters the game at 7-3, while Rosalia is 7-2. Rosalia earned the playoff game by winning, 78-28, at Garfield-Palouse on Tuesday.
The winner advances with the No. 4 seed from District 7/9, which takes on the District 7/9 No. 1 seed (Entiat at Colton at 7 p.m. Friday) in the state semifinals Nov. 22-23.
In other 1B loser-out, winner-advancing games Friday are Selkirk at Wilbur-Creston for No. 2 seed to state and Odessa-Harrington at Touchet for No. 3 seed.
Cusick is at Liberty Christian for the No. 5 seed on Saturday.
More like this story
Latest stories
Latest video: