Wednesday, November 13, 2013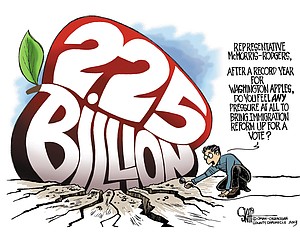 Greed should not wreck Thanksgiving holiday
Hey, I'm with you!
What's with this skipping Thanksgiving that seems to be foisted on us?
I'm seeing more columns/letters/bemoanings/what-have-you about this trend. Perhaps ignoring Thanksgiving has something to do with the arrogant idea that we don't need to be thankful for what we have.
Even many people living in poverty (as defined by the United States government) live in abundance compared to those in so many other countries.
Whatever it is, it makes me sad. One day devoted to being thankful, enjoying our blessings, however many or few we have, eating and sharing and yes, watching football with family and friends — is that so much to ask?
Or is it just plain greed?
Black Friday is bad enough, but starting the sales the evening of Thanksgiving Day is way too much, especially for the employees.
Nope. I won't go shopping on Thanksgiving or the day after.
Carolyn Meagher, Omak
New obituary section needs some improvement
I really dislike the new format The Chronicle is using for the obituaries and nobody I've talked to likes it either. The obituary column is a very important part of your paper and the change is not for the best. Please consider not putting engagement and wedding announcements on the same page with the obituaries — seems rather tacky. Proofreading is also a good idea. For the most part, The Chronicle is a nice paper.
Alice I. Hobart, Okanogan
Letters to the editor policy
The Chronicle accepts letters to the editor of 250 words or less. Letters must bear the signature and hometown of the writer and a daytime telephone number.
Letters with multiple signatures or sent to multiple publications will not be considered. Letters may not include personal attacks or thank you messages. Letters are subject to editing. Publication does not imply agreement or endorsement by The Chronicle.

Letters may be mailed to The Omak-Okanogan County Chronicle, Attn. : Letter to the Editor, P.O. Box 553, Omak, WA 98841; dropped off at The Chronicle office, 618 Okoma Drive, Omak; faxed to 509-826-5819, or emailed to news@omak chronicle.com.
More like this story
Latest stories
Latest video: