Wednesday, November 13, 2013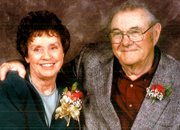 PATEROS — Marilyn and Howard Asmussen will celebrate their 60th anniversary with an open house from 1-4 p.m. Nov. 16 at the Pateros Central Building, 207 Pateros Mall.
The couple married Nov. 15, 1953, in Omak. They lived on the Asmussen homestead in Mansfield and raised three children.
Jeanette and her husband, Charles Palmer, live in Bellingham and have two children.
Lana Asmussen and Arn Asmussen are deceased.
Lana Asmussen is survived by two children. Arn Asmussen is survived by his wife, Judy Brown, and two daughters.
—The Chronicle
More like this story
Latest stories
Latest video: