Thursday, November 7, 2013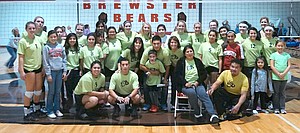 BREWSTER — The Brewster High School volleyball team celebrated senior night along with "EB Night" on Oct. 28.
Seniors honored included Alisa Pio, Kole Webster, Kendall Leaver, Whitney Baker, Jocelyn Reyes, Brette Boesel, Margie Brammer and Sally Romo.
"These girls have embraced what it means to be a part of a team and over the course of four years have helped define the culture of our volleyball program," coach Marcy Boesel said. "As their coach, I am extremely proud of the young ladies they have chosen to become."
EB, or Epidermolysis Bullosa, is a rare genetic connective tissue disorder that leaves the individual with extremely fragile skin that blisters and tears.
Brewster volleyball player Naly Diaz's nephew has battled the disorder all of his young life, coach Boesel said.
"She organized the evening and made special shirts for each player on all squads to wear for their match," Boesel said. "This was a labor of love for Naly. She touched all of our hearts with her love for her nephew and desire to bring awareness and help find a cure for EB. We are able to make a donation of $281.47 to EB research.
"I would like to thank our community as well as the visiting communities for their emotional and financial support our girls and their causes. We are blessed to live among others who value developing a responsibility of service in our young people."
Brewster turned back Omak, 3-2, on Nov. 5 and will play in the bi-district tournament starting with Lakeside at 2 p.m. Saturday at Cascade High School, 10190 Chumstick Highway, Leavenworth
More like this story
Latest stories
Latest video: