Wednesday, November 6, 2013
Makenzie Norwill, a senior at Okanogan High School, recently signed a letter of intent to play fastpitch softball at Oregon Institute of Technology in Klamath Falls, Ore.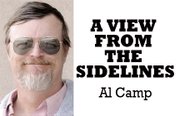 Norwill, a right-handed pitcher, caught the eye of college scouts at the Fastpitch Northwest's Championship College Exposure Tournament on July 9 in Centralia. She has played summer ball with the Washington Mustangs, too.
She threw a 59 mph fastball and 41 mph change up, the tournament site said.
Norwill also was timed in 2.91 seconds from home to first and 11.37 seconds going around all four bases.
She can also play the outfield, where her throw to the infield was 61 mph.
There were nearly three dozen college coaches in recruiting mode at the tournament, which included 200 players on 18 teams competing for three days while auditioning their skills, attitude and desire to play at the next level.
The players from Oregon, Washington, Idaho, Montana, Hawaii and British Columbia were divided into two age divisions for competition.
Norwill is pretty sharp in the classroom, too, where she has a 3.77 grade point average and scored 1,620 on her SAT test, the tournament site said.
She's been on the honor roll every quarter in high school and is a member of National Honor Society.
She was all-league second team in fastpitch as a freshman, and first-team all-league as a sophomore and junior.
She was named to the all-state second team last year at the state tournament.
Norwill won two sportsmanship awards at the state tournament last spring.
She holds two weight lifting records (255 pounds in parallel squat and 155 pounds in power clean) and was ranked No. 1 nationally in 2010 in downhill skiing.
Today, Nov. 6, marks the 40th anniversary of voters' decision to allow Washington drivers to personalize their license plates – and to help the state's wildlife along the way.
Over the past four decades, revenue from personalized license plate sales has grown to contribute more than $2 million annually to the state Department of Fish and Wildlife program that oversees management of all species that are not hunted, fished or trapped.
At the heart of the program's mission is the restoration and acquisition of important habitats, which also benefits game species.
"Personalized license plates provide a means for anyone who drives a vehicle to contribute to wildlife conservation in Washington," said state Department of Fish and Wildlife Director Phil Anderson.
"While people select plates for a variety of reasons, personalized license plates allow people interested in all aspects of wildlife – from big game hunting to bird watching – to promote their passions."
Cousins Cristian and Carlos Talavera of Brewster continue to shine on the Spokane Shadow U17 Leonard soccer team.
Cristian, 15 and a sophomore, has 8 goals and 3 assists for the Shadow, which plays in the Regional Club League composed of the 20 best clubs in Washington State.
The team currently is in third place halfway through its season.
Cristian picked up his first hat trick of 3 goals in a 4-2 win over Rivers of Yakima on Nov. 3.
Carlos is 14 and a freshman at Brewster.
Tyrone Novikoff of Curlew wrapped up his first season of professional football playing for the Edmonton Eskimos.
The Eskimos finished the season with a rare victory, 30-26 over Saskatchewan.
Edmonton were a disappointing 4-14, including only one home win out of nine games.
Novikoff played for the University of Idaho and made several cuts with Dallas before being cut a year ago.
uuuuu
David Maley of Rosalia, who keeps track of state football records, passed along the top winning and losing streaks.
Bellevue (3A) easily holds the current state win streak mark at 49 games after Friday's games.
The mark breaks Toledo's 11-man record and tied the all-time record by Lacrosse-Washtucna in 8-man.
Others include Lynden (2A) 22, Lind-Ritzville-Sprague (B11) 20 and Ellensburg (2A) at 10.
King's Way Christian, a 1A school playing eight-man football, had its 10-game streak end Saturday.
There were a couple losing streaks that ended the last couple weeks, including my alma mater Stadium (4A) breaking out of a 0-16 slump. The Tigers won 2-0 in a forfeit over Wilson last Friday.
Oroville plays Chief Leschi on Saturday in a non-league game. The Warriors are on a 24-game losing streak.
Okanogan High School football coach Erick Judd recently was selected a Week 3 Coach of the Week by the Seattle Seahawks professional football team.
Judd will receive a signed certificate from Seattle Seahawks coach Pete Carroll and NFL Commissioner Roger Goodell, $500 for the football program, a Seahawks hat and two tickets to the Dec. 22 Seahawks game against St. Louis.
This sounds like fun.
The Brewster American Legion is planning dart competitions once a week at the post, 102 Third St.
An organizational meeting was Oct. 23, according to the Legion's Facebook page.
Teammates were being sought at that time.
I can remember a similar competition in Omak many years ago. Seems like a certain motorcycle business owner was super good at bullseyes.
Al Camp is the sports editor for The Chronicle. Email him at sports@omakchronicle.com.
More like this story
Latest stories
Latest video: