Wednesday, November 6, 2013
Like many people around the country, I've been following the roll-out of the Affordable Care Act.
And since we live in an arguably economically depressed area of the country, I specifically am interested in finding out how many of my friends and neighbors were benefitting from a program that supposedly would give many health care for the first time.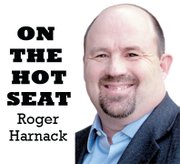 I called the Washington Health Plan Finder, the organization supposedly assisting residents get on "Obamacare" and tracking the success rate – not just once, but many times. They all ended with me leaving a message on somebody's voicemail. After more than a month of Obamacare, I have yet to receive a single return call.
Apparently, we've been sold a bill of goods. If we hadn't, Washington Health Plan Finder and other officials responsible for the roll-out would've been sending our newsroom multiple emails touting success.
Without any direct information from the agency, I decided to see what other media outlets were reporting about Washington state. The most recent figures appearing in multiple national news sources show that as of Nov. 1, approximately 48,995 people in our state had registered for health care under the Affordable Care Act.
Breaking that number down, the national media are reporting only 6,390 people in our state have been able to obtain insurance through the Affordable Care Act. The rest – 42,605 – have been put on the Medicaid rolls.
During a congressional hearing in Washington, D.C., our Fifth Congressional District Rep. Cathy McMorris Rodgers referenced the system, saying: "This law is becoming quickly less about helping Americans purchase affordable coverage and more about compelling millions of Americans into a struggling Medicaid program."
If the law actually helped lower-income residents obtain health insurance, I'm sure McMorris Rodgers would be supportive.
But in the first month of enrollment, there's nothing to show the program is working, and nothing to show North-Central Washington residents are finding insurance.
Of all the places in our country where the Affordable Care Act should be beneficial, it's here in North-Central Washington.
Using federal estimates, 1,177 Ferry County adults between the ages of 18 and 64 are uninsured. That's approximately 25.3 percent of the working-age population. That number is higher when looking at Okanogan County. According to the estimates, 33.7 percent of working-age adults, or 7,871 people, are uninsured.
So to put this in perspective – 9,048 working-age adults in our small two-county area are believed to be uninsured.
And yet, only 6,390 people from the entire state are estimated to have successfully obtained insurance.
Given how small our population is compared to the entire state, Washington Health Plan Finder is failing epically in its mission.
Roger Harnack is the editor and publisher of The Chronicle. He can be reached at 509-826-1110 or via email at rharnack@omakchronicle.com.
More like this story
Latest stories
Latest video: