Bullying comes in many forms.
Ask Miami Dolphin tackle Jonathan Martin and he'll tell you your coworkers could be bullying you.
Or ask the father of a player whose team, Western Hills High School, recently lost 91-0 to Aledo High School in Texas.
Heck, just look around and you will find bullying.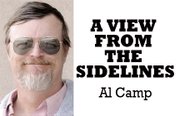 The problem is that a lot of us look at bullying, but don't see it.
For Martin, what should have been a quick hazing of a rookie, second-round player turned into a year and a half of constant snubs.
Martin, who went on personal leave Oct. 28, is no dummy. He's a Stanford grad. Both of his parents are attorneys who attended Harvard.
And he could have gone the fisticuffs route, too, to get even. After all, he's a 6-foot-5, 312-pound offensive lineman (something the Dolphins can ill afford to lose).
Instead, when teammates got up and left when he tried to join them for lunch, Martin headed the other direction and out the door.
The problem in Miami is that no one, from coaches to management to senior players, stood up and said enough is enough. Stop the bullying and get back to playing football.
Playing football, and doing it well, appear to have put a Texas 4A football team in the limelight due to its being just a bit too proficient.
Aledo is beating opponents this year by an average score of 69.3 points a game en route to a 7-0 record.
Heck, you might say, that's just Texas football. No other state in the union takes the game as serious on Friday nights.
But a parent said in a complaint to the school district, that Aledo was encouraged to run up the score by coach Tim Buchanan, and by doing so was bullying Western.
The complaint, made public Oct. 29, alleges "both" teams were victims of the Aledo coaching staff. The complaint claimed "everyone in the football stadium" was a witness Buchanan and his staff's "unsportsmanlike conduct."
Buchanan said he pulled his starters after the first quarter and was playing third-string players by the end of the contest. The coach also asked officials for a running clock, but it's only used for six-man in Texas.
There is a mercy rule in this state for all levels when a team amasses a large lead.
"It wasn't good for anybody," Buchanan said in a MyFoxDFW.com online story. "I've sat and gone over and over and over it on what we could have done differently. The score could have very easily been 150 to nothing."
Bullying is a buzzword almost as powerful as Kardashian and Coug It, all of which make me a bit queasy when I hear them.
Maybe Texas officials should sit down and ponder what kind of future is being created with lopsided scores in any sport, from football to basketball to baseball.
Heck, the alleged deadly shooter at Los Angeles International Airport on Friday is now described as having been bullied. The former youth baseball player is described as quiet, which leads people to think he's been bullied.
The earlier we intervene when seeing bullying, and knowing the difference between fair play and foul play, the better our world and sports experience will be.
Al Camp is the sports editor at
The Chronicle. Email him at sports@omakchronicle.com.
More like this story
Latest stories
Latest video: