I spend a lot of my time in my truck driving to remote locations in our county, racing in out-of-state locales and just traveling to travel.
Because of that wanderlust, I tend to listen to radio probably more than most people. So, I have an XFM subscription.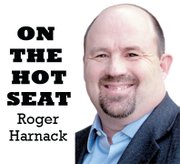 Sure the radio subscription comes in handy when traveling in mountainous areas few radio stations reach.
But there's another reason — the music and talk radio programs are uncensored.
While some of the music I enjoy is definitely written for an adult audience, I have the ability to turn the channel to something more subdued when younger ears are with me.
So, the Federal Communications Commission's decision to look at loosening censorship restrictions on regular television and radio content is something I welcome.
Let's face it, our homes are already inundated with more "open" programming and music. And should the FCC loosen its standards, there will likely be little effect on our viewing and listening habits.
Consider for a moment how many homes have satellite television, Internet, tablets, etc. All can come without the censorship general broadcasting companies are required to implement. But they can all be censored by parents who don't want children exposed to more adult themes.
And consider our proximity to the Canadian airwaves, many of which are not censored.
Clearly, government censorship of the airwaves doesn't work in this age of technology.
I know what you're thinking ... we need less sex and violence on television. And we need fewer songs espousing drug and alcohol abuse on the radio. We need censorship to keep our children safe from the smut and violence-mongers controlling Hollywood and the airwaves.
But why should we allow government to censor what we watch in our homes and listen to on our radios?
As a divorced dad whose daughter isn't always present, I shouldn't be subjected to censorship by government agencies supposedly working for me and you.
And when my daughter is present, isn't it my responsibility to determine what is or is not appropriate for her to listen to?
Let's also talk about the issue from a business perspective.
If a local market demands censored music and television, the public will demand it with their wallets. In short, viewers and listeners wanting more sanitized shows and tunes will turn the channel.
That's why cable and satellite television works well for so many Americans. Adults can watch what they want when they want. They can also turn the channel to Disney when young viewers are around.
Interestingly, XFM radio works the same for me.
When I'm cruising to a race or heading down the highway alone, you can bet I have Octane playing. When my daughter is in the truck, we have Disney, books on radio and other channels available.
If local radio and television networks were allowed to determine programming based on community standards rather than arbitrary federal regulations, I may be more inclined to tune in.
The FCC closed its public input on the proposal to loosen its standards last week.
I'll be interested to see what the outcome of that proposal is, and if it means anything at all.
Roger Harnack is the editor and publisher of The Chronicle. He can be reached at 509-826-1110 or via email at rharnack@omakchronicle.com.
More like this story
Latest stories
Latest video: