It's yard sale season and even if we don't manage to get it together enough to have a sale of our own, there should be no excuse for not contributing to someone else's sale.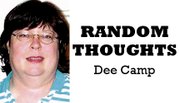 We've got plenty of stuff that would make good fodder for some deserving organization's sale.
Both the Tonasket and Omak libraries plan used book sales in the coming weeks, and are seeking donations. The Okanogan Library's friends group usually has a sale in conjunction with Okanogan Days.
The Wauconda Community Hall will host a flea market this Saturday from 10 a.m. to 2 p.m. at the hall, 129 Toroda Creek Road.
All that said, around our house, work makes a pretty good scapegoat for projects left unfinished, including boxing up surplus stuff for book or yard sales.
But aside from the desire to re-read a book one more time or the inability to part with some unused household item, the bottom line is that we're just plain lazy.
Latest stories
Latest video: