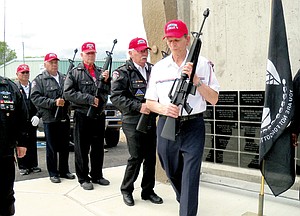 TONASKET — The U.S. Armed Forces Legacy Memorial stands among the best veterans memorials in the country, a speaker told several hundred people assembled May 18 for the site's dedication.
Although rain sprinkled earlier in the day, the clouds parted and the sun came out for the event.
Retired Coast Guard Capt. Alan Walker, who operates a tree farm in Curlew, said he spent several years in Washington, D.C., during his 28 years in the service and saw all the national veterans memorials.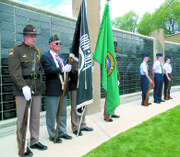 "None of them hold a candle to this one," he said, looking around at the walls of plaques, basalt columns, green grass and waving a U.S. flag.
U.S. Armed Forces Legacy President Roger Castelda gave an overview of the project, praising the community for being "generous to a fault" in supporting the project.
"None of (the memorials) hold a candle to this one."
— Retired Capt. Alan Walker
The memorial's walls bear 969 plaques with names of local service men and women – both living and deceased – and space for more.
"Every war is represented except 1812," he said.
Walker, one of two guest speakers, said more needs to be done to educate people "about what it means to serve this country. There is no greater place than this country."
The other speaker, 1985 Tonasket High School graduate Lt. Cmdr. Allen Willey, has spent 27 years in the Navy as a civil engineer.
"Going into Memorial Day, there is nothing more important than recognizing those who served," he said.
Willey, who started as a Seabee and later attended the University of Idaho, said he has fond memories of growing up in Tonasket.
"I'm proud to have grown up under simple and family-related values," he said. "It's an honor to serve our nation."
He, too, urged people to make sure the younger generation knows about the sacrifices service men and women have made.
"I feel the tremendous honor those people on the wall give us," he said. "They know the price of freedom is very high."
Willey said he's witnessed extreme casualties and lost people close to him.
"I stand in awe of the people in the military. They keep doing it over and over again."
After Walker and Willey spoke, Castelda invited people in the audience to speak.
Among those stepping forward to congratulate the Legacy Memorial's builders were Daralyn Hollenbeck of the Blue Star Mothers, Okanogan County Commissioner Jim DeTro and Tonasket Mayor Patrick Plumb.

Plumb offered a special tribute to Vietnam veterans, many of whom received the cold shoulder when they returned from service.
"I have a soft spot in my heart for you folks," he said, adding that the Legacy Memorial "is a jewel."
The ceremony included an airplane flyover and a 21-gun salute by the Colville Confederated Tribes Honor Guard.
Member Stan Timentwa played "Taps" on the bugle.
Flags were posted by members of the Okanogan County Sheriff's Office Honor Guard, American Legion and Civil Air Patrol Northern Desert Composite Squadron.
Letters from U.S. Reps. Richard "Doc" Hastings, R-4th District, and Cathy McMorris Rodgers, R-5th District, were read.
More like this story
Latest stories
Latest video: