Originally published May 22, 2013 at 12:00a.m., updated September 27, 2013 at 11:11a.m.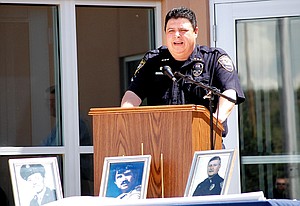 NESPELEM — Various law enforcement agencies from around the county gathered at the Colville Correctional Facility on Friday, May 17, to show their respect as part of Fallen Officers Memorial Week.
Speakers from different police and civic organizations paid tribute to Okanogan County's fallen officers, Sgt. Louis Millard and officer Roy Bradshaw of the Colville Tribal Police and officer Mike Marshall of the Omak Police Department, as well as those across the nation who had died in the line of duty.
Okanogan County Sheriff Frank Rogers said he knew Millard and Marshall from his early days in law enforcement and still remembers hearing the news of their deaths.
"When this happens in your life, it's something you don't forget," Rogers said. "It touches you and it never goes away."
Rogers took the opportunity as the memorial's guest speaker to address his fellow law enforcement officers in attendance.
"I call on all of you wearing a badge today to renew your commitment to your chosen profession," he said. "Serve your community well with professionalism, a high standard of ethics and morals. By doing so, you honor these men who have given their lives in the line of duty."
Colville Business Council member Nancy Johnson said it was difficult not to relive a feeling of sadness as she watched the flags lowered to half-mast.
She said people hear about officers in situations of danger or crime, but "often what we don't hear are the things they do every day."
As a community, she wanted to take her moment at the podium to express her gratitude "that I can wake up every day with that sense of peace that you're out there protecting our roads, our communities. My heartfelt prayers go out to all of you."
The ceremony, which opened and closed with a prayer, also included the playing of "Taps" and reading the names of every fallen officer in the U.S. in the past year.
Bradshaw and Millard were fatally shot and killed in the line of duty near Nespelem.
Bradshaw was killed in August 1973 while responding to a domestic disturbance.
Millard died in August 1983 after being shot trying to arrest a suspect.
Marshall was shot in March 1998 while questioning a man at a domestic disturbance call. He died early the next day.
More like this story
Latest stories
Latest video: