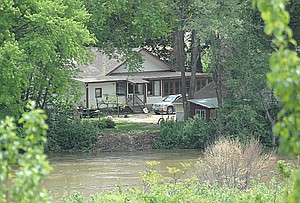 OKANOGAN — The flood warning on the Okanogan River has been extended to Sunday afternoon, but the threat may be over even sooner.
Although minor flooding has happened along parts of the Okanogan River, National Weather Service officials did not recommend issuing a declaration of emergency for Okanogan County on Monday.
The river was expected to rise to 17.12 feet by today, May 15. The National Weather Service told county commissioners this could be the peak for the year since temperatures have cooled off, Commissioner Jim DeTro said.
"It looks like it's going to crest shortly," he said, barring an "unpredictable rain event."
Some flooding has been reported in the lowlands between Oroville and Tonasket, south Omak, on the race track south of Okanogan and in some homes sitting on the flood plain, according to a report given to the commissioners.
Moderate flooding may occur at 17 feet, but major flooding happens at about 18 feet.
On Monday, the river level was 16.56 feet. By Sunday, the river should be back down to the flood stage of 15 feet.
Wells Dam has been spilling water to help mitigate the threat, and the U.S. Army Corps of Engineers has sent a two-person team to the Okanogan Basin, with three more scheduled to arrive Saturday.
The Corps has targeted the city of Okanogan and Riverside levees — as well as the Twisp levee off the Methow River — as areas of concern.
A flood warning has also been issued for the Kettle River above Curlew. The river level was 18.46 feet as of Monday afternoon and was predicted to reach 18.6 feet yesterday.
The Kettle River is forecast to drop to 17.57 feet by Monday, May 20, but that is still about half a foot above the flood plain.
The Similkameen River level on Monday was 12.96 feet, and the Weather Service predicted it could reach a peak of 13.2 feet yesterday. The flood stage for the Similkameen is 14 feet.
More like this story
Latest stories
Latest video: