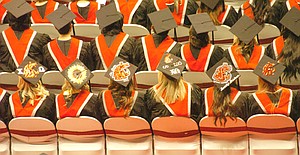 College graduates have elevated mortarboard decorating to a fine art.
Last Saturday's commencement ceremonies at Washington State University gave a glimpse of just how intricately embellished those square caps can become.
We were in Pullman for our son's graduation. I'd asked him before the ceremony if he was going to write anything on top of his hat, as his dad had done years ago.
In 1979, my husband wrote "Excuse Me!" on his mortarboard with white medical tape. Comedian Steve Martin was big at the time and that was his signature expression.
Others decorated their caps, and I remember one group of engineering students wearing hard hats and the aeronautical engineering group having rubber band-powered balsa wood airplanes on their mortarboards.
At one point during the ceremony, they wound up the planes and let them fly.
Doug declined to decorate his.
As graduates entered Beasley Coliseum, we quickly learned that many of Doug's classmates took mortarboard art to a high level and turned them into "messageboards."
One had affixed a battery-operated fan on his. The fan blew red and yellow fabric "flames" the whole ceremony.
Another had glued a barnyard – or maybe a zoo – full of plastic animals on hers. Some had fleur-de-lis, crosses or fraternity/sorority house letters.
Many sported the university's signature cougar head logo.
Some were beaded, some were embroidered. Others were done in glitter and still others appeared to be pre-printed stickers.
A number of students wrote out messages along the lines of "Thanks, Mom and Dad." One said "Kiss me, I'm a WSU graduate." Another said, "Finally!"
A handful of hats had sprouted flowers.
One of my favorites echoed, in a different way, the message voiced over and over during the ceremony, "Go Cougs!"
That mortarboard hinted at the education the student had received. She went beyond "Go Cougs" and decorated her mortarboard with "Go Puma concolor," the scientific name for the cougar.
During the two-hour ceremony, more than 800 students' names were read. It was one of three general ceremonies that day; veterinary medicine students got an evening ceremony.
Smiles abounded. Cameras snapped. Tears of joy flowed. Families beamed.
Congratulations, graduates.
Dee Camp is a reporter at The Chronicle. She can be reached via email at dcamp@omakchronicle.com.
More like this story
Latest stories
Latest video: