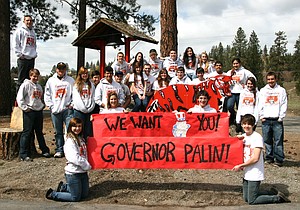 REPUBLIC — Former Alaska governor and Republican vice presidential candidate Sarah Palin will be the guest speaker at Republic High School's commencement ceremony on June 1.
The 27-member senior class, led by president Tyler Weyer, undertook weeks of coordinated letter writing, emails, tweets, and a full Facebook campaign — including photographs — to convince Palin, a Republican, to visit, principal Shawn Anderson said.
Weyer said students were brainstorming last fall in English class about who they'd like to have as a commencement speaker and he tossed out Palin's name.
Even though he suggested her "as a joke," the 17-year-old said he's been a Palin supporter "for a long time."
He said his English teacher encouraged him to pursue his suggestion, as did his debate teacher.
"Then I got called into the principal's office. I thought, 'What did I do now?'" he said.
Anderson offered school letterhead and a signature of support.
Weyer said he sent a letter to Palin's parents, Charles R. "Chuck" and Sarah "Sally" Heath in Alaska. He got a non-committal response from one of Palin's aides.
As the months passed, Weyer organized a class photo that included a "We want you Governor Palin!" banner. That's when the Facebook and Twitter campaign started.
Palin's aunt, Omak resident Peg Finch, said her son, Albuquerque, N.M., resident Jason Morgan, received a forward of the message.
"There was a persistent kid in the class," Finch said.
Weyer said response to the Facebook campaign was great, and a day or so later he got an email from the aide – who actually is Palin's scheduler – saying he'd seen the picture.
"I hadn't sent it to him," Weyer said.
A conference call with Weyer, Anderson and the scheduler was set up and on April 18 the visit was confirmed.
"She graciously accepted an invitation from a graduating class of 27," Weyer said.
Details still are being nailed down, and Weyer said he doesn't know how long Palin will be in the area.
Finch said she's not sure she'll get to meet with her niece, since she plans to be in Alaska for several weeks visiting her sister, Palin's mother.
Republic Police Chief Jan Lewis said he's not yet been contacted by Palin's staff and doesn't know what sort of security detail she'll have with her.
"We haven't gotten to that point yet," he said.
Weyer stressed that Palin's visit won't be political.
"It's a graduation, not a fundraising event or anything," he said.
Anderson said school officials "confer a special thank you to senior class president Tyler Weyer for his dedicated work in securing this year's 2013 class speaker and recognize the Republic School District staff and community in supporting the senior class goal of realizing this once-in-a-lifetime event."
Republic's commencement will be from 1-2:30 p.m. June 1 in the high school gym, 30306 E. Highway 20. The ceremony is open to the public, but the gym holds only about 400 people. The high school has 109 students.
More like this story
Latest stories
Latest video: