Although I've spent most of my life in Washington, I also lived in Arizona for a time and spent about five years in Oregon, just prior to moving to Omak.
In the entire time I lived in Arizona, I never took the relatively short jaunt north to see the Grand Canyon. A four-hour drive would have put me on the brim of one of the great natural splendors in all the world, a photographer's dream and a place that should be on everybody's "bucket list."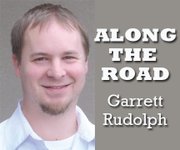 I remember a trip to the East Coast as a young teenager, visiting the Statue of Liberty, as well as various Boston locations tied to American history. I remember being utterly bored for most of the trip, but I was probably too young, too ingrained in living a fast-paced life to enjoy smaller details and sightseeing.
When I lived in Arizona, It wasn't that I didn't want to see the Grand Canyon. I always figured I'd get around to it. But by the time I left Arizona, I could only imagine the giant crevice from what I'd seen in thousands of postcards. For whatever reason I could never pinpoint, I didn't make sightseeing a priority.
The same thing happened when l lived just a few short hours from the Oregon Coast, or in the opposite direction, from lava caves in Bend, Ore.
By no means the visual splendor of the Grand Canyon, the Oregon Coast is more a place of relaxation, soaking in the salty air and forgetting about the concerns of life. The lava caves are another of those natural wonders that people should check out at some point in their travels.
Apparently, that wasn't something I was very good at because I never made it to Bend, never made it to the various recreational and vacation areas along the coast. Between the Grand Canyon and the Oregon Coast, two of my regrets about places I've lived in the past revolve around not taking time to see the sights and experiences that were unique to each region.

I'm determined not to have the same regrets of my time in Okanogan County.
While there may not be a Grand Canyon, the sheer size of the county and its location, tucked against the Cascade Mountain range and partially hidden among massive forestlands, makes for any number of "can't-miss" destinations.
What are the sights that can't be missed in Okanogan County? What are the signature experiences of this region?
Is it more of an event, like the Omak Stampede and World-Famous Suicide Race? Or is a location, like majestic Liberty Bell or Grand Coulee Dam?
Garrett Rudolph is the managing editor of The Chronicle. He can be reached at 509-826-1110 or via email at grudolph@omakchronicle.com.
More like this story
Latest stories
Latest video: