The 7th Legislative District Senate debate Monday night shed some light on a hot-button issue that's sure to come up again.
The issue is whether state law should be enacted to require volunteer service for high school students to graduate.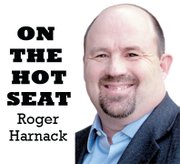 Candidate Sen. John Smith said he supports the idea; challengers Mike Brunson and Brian Dansel both opposed it.
Smith said mandating community service teaches leadership. He has a point.
You don't have to go very far in our neck of the woods to see who the movers and shakers are. In fact, it's likely they are volunteering on a number of boards from chambers to rodeos to booster clubs; you get the picture.
Dansel and Brunson said schools are in place to teach academics, not how to act as a member of society.
They have a point, too.
How can you mandate community service, something that is supposed to be voluntarily given?
I'll side with Dansel and Brunson on this issue.
Coercing our youth to give s0-called "freely" of their time cannot guarantee leadership. In fact, that's just the opposite.
Leadership stems from making a decision, not being told what to do.
If we want our youth to grow and develop, we definitely should encourage them to volunteer in activities they believe in, not order them to "volunteer" in activities and social programs we believe in.
The bottom line is public schools were created for one single purpose — to educate students on reading, writing, mathematics and other academic subjects. In supporting that effort, shouldn't our students choose where to spend their time and effort?
Nothing irks me more than seeing parents use children to further political causes they do not understand. Mandating community service can devolve to just that.
Given a chance, our high school students will find a way to make our communities a better place to live. But it only becomes better if they choose to do something.
Indeed, several students already choose to make their hometowns better. Look at the ranks of the Boy Scouts, Girl Scouts, Civil Air Patrol, etc. and you'll see they have chosen to join a group that emphasizes volunteerism and helping others.
And yes, there are also many students who choose not to be a part of those groups.
But having choices is a fundamental building block of American society.
Forcing youth into community service is counter-productive to making our communities better and building leadership.
Rather than thinking about how to make our communities better, this type of coercion leads to "How can I fulfill another graduation requirement?"
I'd rather reward students for taking initiative, than coerce them into helping out a teacher's or parent's pet project.
Roger Harnack is the editor and publisher of The Chronicle. He can be reached at 509-826-1110 or via email at rharnack@omakchronicle.com.
More like this story
Latest stories
Latest video: