Cristian Talavera of Brewster will be the youngest player on a Spokane Shadow under-17 soccer team this summer.
Talavera, who is 15 and will be a sophomore next year at Brewster High School, is playing up an age division for the Premier U-17 Leonard team.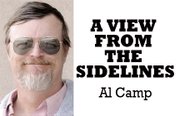 Talavera tried out for the team in February. He will practice once a week with the team before competing in summer tournaments, which include the Crossfire Challenge July 12-15 in Seattle, Denver Cup Aug. 1-4 in Colorado and Northwest Cup Aug. 9-11 in Spokane.
The team is one of many age-group teams within Greater Spokane's Premier Youth Soccer Club,
Talavera will wear the same number, 11, that he wore with the Bears this year where, as a freshman, he was selected to the second-team all Caribou Trail League.
Shane Proctor, the 2011 PRCA bull riding champion from Grand Coulee, picked up his second big win in two weeks, getting hot just as the rodeo season warms up.
Proctor, who now lives in North Carolina, won the Old Fort Smith (Ark.) Days Rodeo and $4,046 over the weekend, scoring 88 on Radical Roller. That is the highest score ever on the Silver Creek Pro Rodeo bull that bucks off two of every three riders.
Two weeks earlier Proctor had a 93-point ride at the Redding (Calif.) Rodeo, tying the highest score of the season. The $4,503 he earned on Touch of Class helped push Proctor into the top 20. He is sitting 17th with more than $21,000. He is less than a thousand dollars shy of moving into the top 15 to qualify for his third straight National Finals Rodeo.
With more than $7,000 won riding saddle broncs, Proctor is fifth in the all-around chase with $28,248.
Tie-down roper Tyson Durfey, who calls Colbert home, won his event at Fort Smith. The $3,766 helped propel him to fourth in the world standings with more than $31,000, just a year after his streak of five-straight NFR appearances was snapped. It was Durfey's third win of the season.
Cheney bareback rider Ryan Gray, who had his seven-year NFR run end last year, is also in the top 10. With $24,787, Gray is sitting ninth. He has won four rodeos this year, most recently the Maah Daah Hey Stampede in Grassy Butte, N.D., 10 days ago.
The Brewster girls softball team for those age 16 and younger will be proudly displaying their first-place medal after coming through the consolation bracket and twice beating the previously-undefeated Krushers.
Brewster earned the championship much as it did throughout the eight-team tournament composed of eight O&O Softball League teams — by fighting back.
The Krushers twice beat Brewster during the regular season before falling 15-4 in the first championship game May 31 at The Plex.
In the final championship game June 3, the Krushers led 11-1 into the bottom of the fourth inning.
Brewster drove in seven runs to close and took a 13-11 lead after five innings.
After a scoreless sixth, the Krushers scored four in the top of the seventh to lead 15-13.
Brewster clawed its way back once more, scoring two in the bottom of the seventh to force extra innings.
The Krushers threatened in the top of the eighth with a leadoff double. But the next batter lined out and Brewster's defense caught the runner off base at second for a double play.
Brewster found a way to push across a run in the bottom of the eighth for the victory.
For Brewster, Yvette Sanchez finished 3-4 with two doubles.
For the Krushers, Brooke Hauso was 4-5 with two doubles and two triples.
If the numbers hold, this could be another great year for salmon fishing in the Columbia River.
The state updated its run-size forecast June 7, indicating at least 115,000 upriver Chinook are now expected to return to the Columbia River this year, up from the previous forecast of 107,500.
The forecasted increase led to fishery managers agreeing to extend the current fishery for boat anglers fishing for salmon in the lower portion of the river up to the deadline below Bonneville Dam beginning June 8.
"Just in time for Father's Day, the Fish and Wildlife stocked some really nice rainbows," Gene Bussell at Liar's Cove Resort said. "Most weigh between a pound and a half to two pounds."
The fish are already hitting hooks.
"Gene Knight and Mike Gallager from Wenatchee caught their limit in front of their RVs," Bussell said. "They both were using Spring Green with glitter Power Bait.
"Fishing has been great this year, both from the dock and bank. Trolling has been great using pop gear, wedding rings and night crawlers. Fishing from the dam on the upper Conconully Lake has been great, also. Again, most are using Power Bait."
The State Ducks Unlimited convention is planned for June 21-23 in Silverdale, Senior Regional Director Bernard F. Brown said.
This year's theme is "Working Together for Conservation" at the convention site, the Silverdale Beach Hotel.
The convention highlight will be a dinner, raffle and auction (both live and silent) on Saturday night.
"On Friday, not only is there a first-time ladies luncheon, but also a fun shoot showcasing Browning Arms at a very nice gun club just minutes from the hotel," Brown said.
This fall's 2013 Emerald City Kickoff Classic at the start of the state high school football season will be played Saturday, Sept. 7, at the newly renovated Husky Stadium.
The showdowns include Seattle Prep against Roosevelt at 10 a.m., King's vs. Lynden at 1 p.m., Coeur d'Alene vs. Bothell at 4 p.m. and Skyline vs. Bellevue at 7 p.m.
The Classic will be the second event held at the new Husky Stadium. The Washington Huskies home opener against Boise State Broncos will be the first game played at the new state-of-the-art venue on Aug. 31. The $250 million renovation will place Husky Stadium atop the list of premier football facilities.
Okanogan was well represented at the state senior All-Star Challenge softball games May 26 at Central Washington University in Ellensburg.
Darlene Carrillo (OF), Kailey Harris (1B) and Kolby Marchand (CF) were amongst 60 graduating seniors making up four all-star teams who competed in a round-robin tournament.
The three girls played for an eastern Washington team that went 1-1.
A little checking found Kaelyn Marchand of Omak won the junior barrels title at the 2013 Yakama Treat Days INFR Tour Rodeo on June 7-9 in White Swan.
Unofficial champions:
Bareback - JR Chino
Tie Down - Shandell Glasses
Ladies Breakaway - Katelin Conway
Sr Breakaway - Vernon Small
Jr Breakaway - Phoenix Everano
Saddle Bronc - Doug Fitzgerald
Steer Wrestling - Clint Bruised Head
Bull Riding - Koty Brugh
Ladies Barrels - Jakki Young
Jr Barrels - Kaelyn Marchand
Wild Cow Milking - Cody Barney
Team Roping - Jake Longbrake / Dakota Louis
Jr Bulls - Ju Ju Saddler
Sr Team Roping - Britt Givens / Spider Ramone
I will be taking three weeks off to recharge my batteries, get my camera fixed (motor drive hasn't worked for weeks) and visit relatives (have not see my mother in several years).
During my absence, Bob O'Neil will be doing the sports. If you need to send something to The Chronicle for publication send it to sports@omakchronicle.com.
More like this story
Latest stories
Latest video: