With the first wave of local high school graduations in the books — and one more surge still to come — I'm reminded that this year marks the 10-year anniversary of my own college graduation.
It's amazing to think that an entire decade has passed since I was a senior at Western Washington University, still unable to grow facial hair and thinking I was well on my way to a career in the "real world."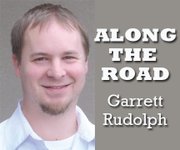 At this time of the year, it seems everybody is unloading advice on recent graduates — most of which goes unheeded or flat out ignored in a time that is a whirlwind of excitement, planning and blind optimism for many teens.
So instead of writing yet another inspirational message to the Class of 2013, I thought I'd use this space for one simple piece of advice for recent high school grads: Listen to the advice you're given.
This doesn't mean you should follow every morsel of knowledge passed onto you. But consider every suggestion. Consider the source, the experience, the wisdom of the adviser.
I speak from the personal experience of somebody who always wants to do things my own way, who's rarely listened to the advice of my parents and never sought out the advice of people with far more life experience than me.
It might sound silly, but I've often wondered, "Why did my parents ever let me major in English?" — knowing full-well I probably didn't listen when they voiced their opinions.
Garrett Rudolph is the managing editor of The Chronicle.
He can be reached at 509-826-1110 or via email at grudolph@omakchronicle.com.
More like this story
Latest stories
Latest video: