A 48-hour co-ed softball tournament, which will include night games, is planned for July 5-7 in Brewster.
"The purpose of the event is to bring more things back to Brewster," organizer Anthony Ruiz said. "The proceeds from the event will go toward future events and community functions. We are in need of more teams for this great event."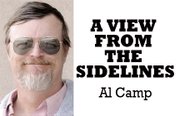 Those wishing to participate can contact Ruiz at 509-683-2238.
"The idea is actually an old one," Ruiz said. "A guy by the name of Lester McCullough actually ran the tournament in the early '90s.
"He coached sports at Brewster and lived in town all of his life. He loved Brewster and the school.
"So, he got this idea of a 48-hour tournament and other events like the Brewster Heights Packing basketball tournament, to help the school's athletic program. I would like to change that a little and make it more of a community event so it will help raise funds for future events and community activities."
Ruiz doesn't have a specific amount he wants to raise, but wants to continue running the tournament as long as he can.
"There will be three fields that will be used, but only one that is lighted," he said. "I would like to try to get everyone a night game if possible. There will also be men's and women's home run derbies. I am trying to get sponsorships right now so I can purchase prizes for other games that are more kid oriented so it can be a weekend long family event."
Ruiz wants the tournament to succeed if only to give youth in the area something to look forward to.
"When I was a kid growing up in Brewster, there was always something going on and always something to do," he said. "I hope this is a start to bringing more activities to Brewster and helping it become the vacation and weekend destination it once was."
Another summer activity in need of teams is a summer basketball league in June, Ruiz said.
"I would love to get some teams from Omak and Okanogan to come play in the league," he said.
"Games are held on Tuesday and Thursday nights and on Sundays," Ruiz said. "It is a men's league, but ages are 16 and up and women can play as well. We have only gotten a few women playing, but they are allowed."
Chandler Smith of Brewster was named Most Valuable Player in leading the Region team with a game-high 15 points past the Metro team, 76-64, at the 20th annual Jack Blair Memorial Classic May 29 in Post Falls, Idaho.
The victory was only the second time in the history of the tournament where the regional team, comprised of players outside of the Greater Spokane League, defeated the Metro squad from Spokane.
Smith, a junior, hit four 3-pointers for the Region team, which made 10 in all at Post Falls High School. The 6-foot guard, who's getting Division I college attention, also shrugged off the long drive (3 ½ hours one way) and pulled down 7 rebounds and blocked 2 shots.
"We shot the ball very well and played great defense," Smith said to the Spokesman Review. "Playing with the best is fun. We have great girls here. And the atmosphere. It was a great game."
Smith was the unanimous selection as the game's most valuable player.
Mead junior Delany Junkermier was named the most inspirational player.
The "A&B" Football Report by Dave Tuengel arrived over the weekend, chock full of interesting information for the 1B, 2B and 1A football ranks.
No teams from this region were listed in his Top 15 1A or Top 10 1B or 2B rankings.
Tuengel also is writing a blog at davetuengel.blogspot.com.
Cashmere is ranked No. 4, Quincy No. 11 and Cascade No. 13 from the Caribou Trail League.
King's is ranked No. 1 followed by Royal in 1A.
Lind-Ritzville-Sprague is No. 1 in B-11 and Liberty Christian No. 1 in B-8 football.
Cusick is No. 2 and Almira/Coulee-Hartline is No. 4 in B-8.
Tuengel reminds us that the 19th Earl Barden Football Classic is Wednesday, June 19 at East Valley High School in Yakima.
The West won last year, 34-28, in overtime.
The tentative roster for the East included Fabian Alvarez (WR/DB) and Derek Darlington (OL/LB) of Cascade, Mahliek Roberts (RB/DB) and Dylan Tarver (OL/DL) of Cashmere and Armando Tafoya (OL/LB) of Quincy.
North Cascades Athletic Club is putting in pickleball, basketball and more tennis courts at its facility, 568 Pine St., in Omak.
Pickleball may be a new sport to many in this area.
Coming on the heels of the construction is registration for the fifth annual national pickleball tournament planned in conjunction with the Sun City Festival on Nov. 11-17 in Buckeye, Ariz.
Pickleball is a court sport played on a doubles badminton-sized court with the net lowered to 34 inches at the center.
It is played with a polymer ball slightly smaller than a wiffle ball and paddles made of wood or composite material. The game can be played indoors or outdoors, is easy for beginners to learn, but is capable of becoming a fast-paced, competitive game for experienced players.
Jim Townsend of Okanogan will be playing in the Columbia Basin River Dogs baseball program this summer.
He will be competing in the senior-division.
Townsend is staying busy this summer also playing basketball.
The hoopsters played last week shorthanded in the Chelan tournament, beating Bellevue Christian on Friday, topping Cascade on Saturday, then falling to Ephrata.
Earlier this spring, Okanogan beat Seattle Christian, but lost by 4 to Eastmont, High School coach Mike Carlquist said.
"It was good because we had some young kids who played well," the coach said.
uuuuu
On the fishing front, if you like muskies there are a few more in Curlew Lake.
I hear 400 recently were planted at the large lake.
News from state tournaments trickled into The Chronicle after the Memorial Day weekend and the May 29 issue was published.
That includes the Lake Roosevelt softball team.
"Things didn't go well at state for the Lady Raiders," coach Jamie Lezard said. "We got beat out in two games (28-2 to Pe Ell and 19-1 to Asotin). We did not play to the team's abilities at all. Just had a bad day."
The team batted .250 in the first game. Key Fasthorse received for sportsmanship award.
In the second game, the Raiders hit .333. Ashley Lezard won the sportsmanship award.
"The team is very young and got its first taste at state fastpitch," the coach said. "We will be back."
The 24th annual North Country Car Club Car Show and Cruise-in is planned for June 15 at the Tonasket Comancheros rodeo grounds.
Gates open at 9 a.m.
There is a new category this year – rat rod.
Also new is the cruise-in, which allows anyone to bring a vehicle into the grounds free of charge to show, but not judge.
There will be vendor booths, a silent auction and lunch.
More in next week's paper.
Lee Morrison of Okanogan is waiting to sign a contract, but he's slated to compete against Julian Erosa (10-1) in a mixed martial arts fight Saturday, July 6, at the Emerald Queen Casino in Tacoma.
The winner will compete for the Cagesport 145-pound title Aug. 23 against Drew 'The Eternal Fire" Brokenshire.
The North Central ATV Club will get together for a meeting at 7 p.m. June 14 at the Conconully Community Hall, 219 Main St., Conconully.
Al Camp is the sports editor at The Chronicle. Email him at sports@omakchronicle.com.
More like this story
Latest stories
Latest video: