Like many of you, I enjoy a good day of fishing. Trout, salmon, bass, steelhead, sturgeon, walleye and once in a while, even catfish.
Here in North-Central Washington, we are lucky enough to have an abundance of lakes, rivers and streams to try to catch fish.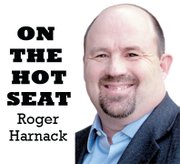 According to state figures, there are more than 96 fishable lakes in the area, most are stocked with trout. Many of the lakes and streams support a variety of fish species.
For example, Curlew Lake sports trout as well as elusive tiger muskies. Leader Lake has trout, crappie and small mouth.
But with our high-desert, hot weather summers, does Spectacle Lake need to be one of the lakes where the only species is trout?
I think not.
But that'll be a topic of debate at 7 p.m. next Tuesday in the Tonasket City Hall, 209 S. Whitcomb Ave. State officials want to "rehab" the lake.
In layman's terms, that means they want to poison the lake to kill off bass, perch and other spiny ray fish. After those and other species are killed off, the state will then step in and plant Kokanee and 10-12 inch trout.
For a few fishermen, that may sound like a good idea. But for those of us who enjoy fishing for a variety of species, it's sounds like a waste of money.
Did you know that a 4-pound bass was caught in the lake just a couple weeks ago? And two summers ago, I watched a fisherman land a bass that later weighed in at 6 pounds. I have yet to see a fisherman land any trout of size in that lake, though I sure a number have been caught.
I don't know about you, but I'd rather catch a large bass than another small trout.
Let's face it, 10-12 inch trout can be caught all over the region. We stock thousands of them in area lakes each year.
But we don't stock bass.
The state has suggested "rehabbing" the lake because it believes yellow perch have become too abundant there. And according to a Department of Fish and Wildlife biologist, that's because people "illegally" released them in the lake.
That may be true, but to ruin one of the better bass fisheries in the region because the state wants a trout-only lake doesn't make sense, either.
Trout fishermen already have plenty of lakes to choose from, including many set aside for flyfishing only.
Instead of paying to poison the lake, Fish and Wildlife officials would do better spending our taxpayer money elsewhere.
The only way that'll happen is if you attend the Tonasket meeting.
Roger Harnack is the editor and publisher of The Chronicle. He can be reached at 509-826-1110 or via e-mail at rharnack@omakchronicle.com.
More like this story
Latest stories
Latest video: