My extreme distaste for shopping malls, combined with a love of treasure hunting, has turned me into a fanatic of online shopping.
If I could get away with it, I would do all my shopping online. Almost any household item can be found from the hundreds of different online retailers, but none have sucked me into wasting many a lazy afternoon the way eBay can.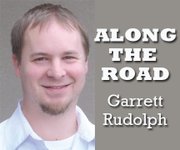 Over the years, I've bought and sold dozens of items through eBay, including clothing, car parts, golf clubs, electronics and collectibles.
In some cases, I've been amazed at how expensive some stuff gets.
In other situations, like my Cleveland CG16 lob wedge — a steal at $26 — I've been blown away at the bargains that can be found.
But more than anything, it's an adventure. You never know what you're going to find. If you can't find it for sale on eBay, it might as well not exist.
Where else can you find a chicken nugget in the shape of George Washington's profile? A year ago, one sold on eBay for over $8,000 (although, I believe the winning bidder bailed out of the purchase).
On Sunday afternoon, while looking for both bargains and an idea for my weekly column, I came across the Weird category on eBay, which is separated into Slightly Weird, Really Weird or Totally Bizarre subcategories.
Naturally, I jumped straight for the Totally Bizarre.
Mixed in with a great deal of adult humor items were traditional shrunken heads, Barack Obama toilet paper (a hit in Okanogan County, I'm sure), stink bombs, two-headed pigs, a coin purse made of a real taxidermy frog and vintage 1989 peanut M&M with wood inside instead of peanut (and an opening bid of $5,000!).
And what list of oddities would be complete without Justin Bieber dollar bills?
Oh, and the exciting item under the heading of "Nothing"
"For the bargain price of $1, I will send you absolutely nothing!" the hopeful seller said.
One other item that caught my attention brought to mind all the controversy lately about student loans and interest rates. One desperate soul is auctioning off his gratitude and a beer, if somebody will pay off his $54,000 in student loans.
"Are you materially satisfied but nonetheless lack substantial fulfillment in your life? Perhaps you live in an ivory tower, sleep on a gold bed (and) eat diamonds for breakfast," the seller asks.
Who says you can't put a price tag on charity?
Garrett Rudolph is the managing editor of The Chronicle. He can be reached at 509-826-1110 or via email at grudolph@omakchronicle.com.
More like this story
Latest stories
Latest video: