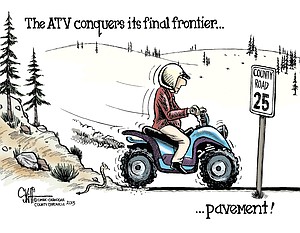 A new state law will give those of us who live in The Okanogan a much needed boost — both in terms of the economy and accessibility to services.
House Bill 1632 was signed into law last week by Gov. Jay Inslee.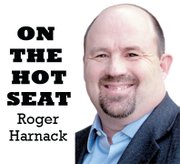 The law allows for all-terrain vehicle use on more paved and unpaved roads throughout the state. It also allows for municipal authority on opening roads, provided ATVs meet some safety requirements.
In addition to having local control on where ATVs can travel, it opens the door for a host of opportunities here in North-Central Washington.
Conconully and a few other communities have known for a while that ATVs mean opportunity.
Let's look at the town for a minute. Conconully has allowed ATV use on town streets since about 2004. The city updated its ATV-use law requiring the motorized vehicles to be street-legal.
Business and town leaders will tell you the ATV ordinance has boosted tourism, which in turn, has boosted their revenues. 
But its more than just the tourists using ATVs on town streets. Area residents also use their off-road machines to visit the town, where they dine, fish, hunt and recreate.
Moreover, several area ATV clubs also enjoy ride-ins based in Conconully.
In some cases, those ride-ins are actually maintenance days. ATV riders routinely take time to improve trails and backcountry camping areas, leaving them in far better shape than they found them.
That, in turn, helps bring other locals and tourists to the town to recreate. The influx means more jobs — yet another economic boost.
Conconully is a model of how the new state law could improve rural communities.
The new state law should have been enacted much sooner than it was, having been approved in the 11th hour of a special session of the Legislature. But a few Methow Valley "NIMBYs" were able to hold the bill hostage.
That selfish attempt cost the entire region jobs, tourism revenue and improved access to area communities. Had they had their say, it would've actually cost Okanogan County indefinitely, as they tried to exclude the entire county from the state law.
The new state law clearly opens more doors for those of us who live here, especially those of us living out-of-town.
You see, living out-of-town means having to take a car and drive paved streets everywhere. But as of July 28, the county and other local government agencies will be able to open more paved and unpaved roads for ATV use.
For me and my neighbors in Tunk Valley, the new law clears the way for us to ride ATVs from our houses to nearby Riverside, Tonasket, Wauconda, Conconully, etc. That means fewer heavy vehicles on roads, less road maintenance, less fuel consumption and less dust.
Those reasons alone are sufficient to open access for ATVs.
And when you throw in the economic boost that comes with increased recreational opportunities, this law was a no-brainer.
Conconully recognized that and so did Okanogan County commissioners, one of the driving forces behind the new law.
It's good the Legislature and governor finally opened their eyes, too.
Roger Harnack is the editor and publisher of The Chronicle. He can be reached at 509-826-1110 or via email at rharnack@omakchronicle.com.
More like this story
Latest stories
Latest video: