Friday, December 27, 2013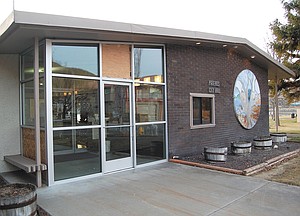 PATEROS — The city is nearing completion on several projects paid for with a $500,000 state Department of Commerce energy grant.
One of the projects was a new vestibule built onto the front of City Hall, 113 Lakeshore Drive.
The vestibule is intended to keep cold air out of City Hall to save money on heating and enclose the welcome center, Clerk/Treasurer Kerri Wilson said.
The grant also paid for new lighting at the tennis courts, at City Hall, along the walking path in Memorial Park and at the wastewater treatment plant; a new heating, venting and air conditioning system for the public library; and new water and sewer pumps for the lift station.
"We've been saving for those for years and still did not have enough money to purchase them," Wilson said of the pumps. The tennis court lighting had been a long time coming, too – the city had been forced to shorten the popular court's hours to avoid utility overage charges.
"(The lights) are ancient, so they suck a lot of energy," she said.
The city kicked in $100,000 in matching funds to complete the projects.
"We got $600,000 worth of work for $100,000. … It's been awesome," she said. "It was a great opportunity for the city for us to be able to get that."
Projects were selected from a prioritized list compiled by Kennewick-based Apollo, Inc. The general contracting company conducted an energy audit and came up with a proposal, then the city narrowed down the list, Wilson said.
More like this story
Latest stories
Latest video: