Monday, December 23, 2013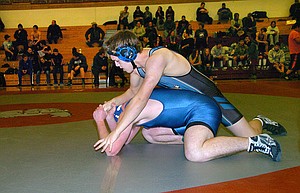 TONASKET — Tonasket put together strong showings in high school wrestling last week.
The Chronicle covered in Wednesday's edition Tonasket winning the Okanogan Invitational on Saturday with some of its wrestlers and sent other wrestlers to Tri-State in Coeur d'Alene, Idaho.
Tonasket also blew away Kettle Falls, 58-19, in a dual meet Dec. 18.
"What a great weekend for Tonasket wrestling," Tonasket coach Dave Mitchell said.
The Tigers finished 39th out of 60 teams at Tri-State.
"We had two Tonasket wrestlers place in the Top 8 at Tri-State," Mitchell said.
Collin Aitcheson finished sixth at 120 pounds.
John Rawley finished eighth at 195 pounds.
At Okanogan, Frank Holfelz took first at 195 pounds.
Placing second were Rade Pilkinton at 113, Devin Walton at 120, Zion Butler at 132, Austin Rimestad at 138 and Dallas Tyus at 160.
At Kettle Falls, "there was a great crowd on hand and we wrestled very well," Mitchell said.
Wrestlers with pins were Dyllan Walton at 132, Jorge Juarez at 138, Zach Lofthus at 145, Dallas Tyus at 160, John Rawley at 220 and Chad Edwards at 285. Vance Frazier at 106 won his match 10-2.
Tonasket returns to action Saturday at 10 a.m. at the Royal City Tournament.
More like this story
Latest stories
Latest video: