Sunday, December 22, 2013
There's something getting ready to swim in our rivers – more salmon.
Washington Salmon Recovery Funding Board and the Puget Sound Partnership announced earlier this month more than $42 million in grant awards for restoration and salmon habitat protection projects. That includes $1,124,375 earmarked for Okanogan County.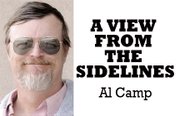 "Salmon are an important part of both Washington's culture and economy," Gov. Jay Inslee said. "Healthy salmon populations support thousands of jobs in fishing, hotels and restaurants, seafood processing, boat sales and repair, charter operations, environmental restoration and more."
Within the grant are $55,828 by Cascade Columbia Regional Fisheries Enhancement Group for assessing 11 miles of the Methow River from Twisp to Carlton. Trout Unlimited-Washington Water Project will spend $318,547 to increase Chewuch River water levels and $750,000 to increase water levels in the Twisp and Methow rivers.
Grant recipients will use the money to remove barriers preventing salmon migration, reshape rivers and streams, and replant riverbanks so there are more places for salmon to spawn, feed, rest, hide from predators, the state said.
The Colville Confederated Tribes often works hand in hand with organizations restoring salmon. History makes it clear American Indians use salmon for sustenance and as a mainstay of their religion.
"They are spending $42 million on an objective without an endpoint," said Jon Wyss, president of the Okanogan County Farm Bureau. "I just shake my head, to be honest, because there is no end to it."
Wyss said he's attended state Department of Fish and Wildlife meetings, always asking if salmon are an endangered species, why could he still eat them.
"It's very frustrating to see this much money spent on the restoration and habitat," he said. "There's no need to bring spring Chinook into the Okanogan River because they are already there."
The Farm Bureau follows the money used for fish habitat restoration, often finding buried amounts used to purchase private land.
"When BPA (Bonneville Power Administration) buys land for habitat, many of the parcels are converted into tribal trust," Wyss said. "Once in tribal land, they go off the tax rolls."
The $1,124,375 climbs to $12,271,875 in grants funded by taxpayers and ratepayers for salmon recovery within Okanogan County, Okanogan County Farm Bureau board member Darlene Hajny said.
"An army of state, federal and tribal governments partnered with environmental groups are working to recreate a Methow to their liking, and we are paying dearly for it," Hajny said. "All kinds of things can be hidden" in the grants.
"It's a big mess, is what it is," she said. "There are so many facets to it, there are so many trying to put it into some kind of order... all in the name of fish."
"One Methow project promises years more in salmon recovery costs since the $100,000-plus assessment aims at future restoration and acquisition grants in a reach largely used for farming and agriculture," Hajny said.
Other Methow projects are about permanent removal of water right, she said.
Al Camp is the sports editor at
The Chronicle. Email him at sports@omakchronicle.com.
More like this story
Latest stories
Latest video: