Wednesday, December 18, 2013
Shane Proctor, a Lake Roosevelt High School graduate now living in North Carolina, finished third in the bullriding average at the Wrangler National Finals Rodeo from Dec. 5-14 in Las Vegas.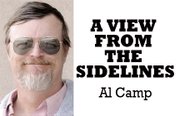 Proctor, 28, won the first two rounds before finishing with a score of 411.5 on five head. The added $30,649.04 for his average finish left him with earnings of almost $73,000 in the finals.
He finished fourth in the overall world standings with earnings this year of $148,575.19.
J.W. Harris won the world title with earnings of $252.829.
Cody Teel, second in the world standings, won the rodeo's average with 651.5 on eight head.
Harris finished second at 518.5.
Harris, Teel and Proctor are the last three bullriders to win the world title since 2007.
Tyler Smith was third in world standings with $156,277 in earnings.
Proctor, the 2011 world champion, scored an 89 on Rafter H Rodeo Livestock's News Flash on the opening night, Dec. 5.
He followed that with winning the next night with an 89 on New Frontier Rodeo's Squirrel Grove.
The victories, each worth $18,630, propelled Proctor from 10th to third in the world bullriding standings.
Proctor knew right away how he might spend his winnings.
"My van just broke down again, so I'll use some of the money to fix her up," he said. "I've had her since my 2011 championship season and I love that van. Every time I see her I get excited, so I have to take care of her."
On Dec. 7, Proctor was bucked off by Wicked, which has not been ridden in 23 attempts.
Proctor scored an 80.5 on Jitter Bug on Dec. 8. That was good for eighth, but was out of the money.
He scored 76.5 on Zapper and placed fifth Dec. 9, winning $4,807.60.
At that point, Proctor and Harris (with 10-point lead) were the only riders to stay a full eight seconds on four bulls.
The former Raider scored 76.5 on Dec. 10 before being bucked off the rest of the rodeo.
Proctor prepared for the Wrangler National Finals Rodeo by scoring a 90-point ride on Pound the Alarm at the Professional Bull Riders Finals in October.
At the Professional Bull Riding finals, also in Las Vegas, he finished 10th.
He finished ninth in the Professional Bull Riding world standings, riding 26 of 66 bulls in 21 events.
Proctor's victories this year include the Liftmaster Invitational and Winston-Salem Invitational.
Of note, there is a bull named after Proctor – Dr. Proctor – following his left wrist being shattered on the final ride at the 2011 Wrangler National Finals Rodeo. He's also shown wearing nothing but boots in ESPN the Magazine's 2009 "Body Issue."
Justin Rivas, a senior at Okanogan High School,recently was named to the state 1A first team as a defensive back.
The 1A Player of the Year is Marcus Goldbach, a running back from Freeman. Goldbach rushed for 1,490 yards and scored 25 rushing touchdowns. He also caught three passes for scores and reached the end zone four times on kick returns (46-yard average).
Liberty Bell and Oroville each placed two players on 2B all-state teams.
Liberty Bell's Jorge Lara, senior, was named to the first team on offense as a kicker.
Teammate Cesar Dominguez, senior, was named to the second team on defense as a lineman.
Oroville's Tanner Smith and Luke Kindred, both seniors, were each named to the first team on defense.
Smith was named as a linebacker while Kindred was a defensive back.
Dylan Hartz, a quarterback and defensive back from Lind-Ritzville-Sprague, was named the state 2B Player of the Year.
Hartz led Lind-Ritzville-Sprague to its second consecutive state 2B title by completing 68 percent of his passes for 1,516 yards, 25 touchdowns and only 3 interceptions. On defense, he picked off four passes.
In 1B, Mikey Piechalski, junior, and Jorge Caballero, senior, of Pateros were each named on both offense and defense teams.
Caballero was named to the first team on defense as a punter. He was named to the second team on offense as a kicker.
Piechalski was named to second teams. He was an all-purpose player on offense – he could pass and run at quarterback and linebacker on defense.
Aaron Fritts of Republic was named to the defensive second team as a defensive back.
Jake Straughan, quarterback at Colton, was named the state 1B Player of the Year.
Straughan completed 140-of-206 passes for 2,748 yards and 31 touchdowns. He rushed for 1,209 yards and 25 touchdowns.
Straughan has signed to play basketball for the University of Idaho, a Division I school.
I emailed all the schools in the region, and apparently Christmas trees are only being sold as fundraisers in Omak and Okanogan.
Trees sold in Omak at the Omak Feed and Supply Store, 3 Dewberry Ave. W., will benefit the high school girls softball program, varsity coach Rick Duck said.
"All proceeds go to support the softball program with a portion this year to the Omak Class of 2014," Duck said.
Trees, ranging in size from five to nine feet, are No. 1 Noble Firs from Washington.
The lot is open 4-6:30 p.m. weekdays and 9 a.m. to 5 p.m. on weekends until the trees are sold.
"So get them while they last," Duck said.
In Okanogan, trees are being sold 10 a.m. to 6 p.m. next to Rawson's, 212 Second Ave. N., to help pay for students traveling to Washington, D.C.
"It is a opportunity for kids to go and tour the national capitol," organizer Denny Neely said. "The kids make their own money to travel and tour. It's our third year and it's totally outside the school, but it benefits the kids education in history and social studies."
Trees will be sold daily until sold out.
Times and opponents have been set for the Cascade High School basketball tournament set for Dec. 27-28.
Okanogan's girls take on Eatonville at 2 p.m. Dec. 27.
The Okanogan boys follow against Eatonville at 3:30 p.m.
Riverside takes on Cascade with girls at 5 p.m. and boys at 6:30 p.m.
On Dec. 27, Eatonville takes on Cascade with girls at 11 a.m. and boys at 12:30 p.m.
Okanogan takes on Riverside with girls at 2 p.m. and boys at 3:30 p.m.
It looks like the Winthrop Ice rink is open.
A schedule is posted online.
Al Camp is the sports editor for The Chronicle. Email him at sports@omakchronicle.com.
More like this story
Latest stories
Latest video: