Wednesday, December 18, 2013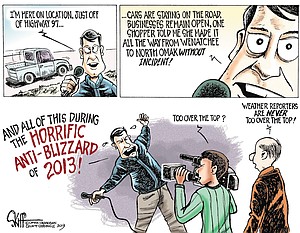 Gift horse? More like Trojan horse
Reading last week's paper, I had to laugh at the audacious and benevolent attitude exhibited by a previous letter writer toward the serfs laboring within Okanogan County.
The "gift" of him protecting the land from humanity through the purchase of 1,990.33 acres of Okanogan County heritage, in reality cost taxpayers $950,000 of the property's $1.5 million price tag. The writer actually only paid $550,000 (a cool $400,000 less than the taxpayers and only $276.34 per acre) out of his own pocket for the 1,990.33 acres that are now tied up with taxpayer funded conservation easements in perpetuity. Who's looking a "gift horse in the mouth?"
I guess because Olympia is on the west side, and the writer harkens from the west side, somehow it follows that "most of the money used to buy conservation easements comes from the west side?" Either way, I appreciated the laugh and will keep in mind another saying regarding Trojan horses.
Trinity Stucker, Tonasket
Hospital needs to solve problems
One important thing left out of the Nov. 27 story about Three Rivers Hospital is all the doctors practicing at the Brewster clinics and hospital signed a letter of no confidence in the present hospital administration; they were looking for change.
Another statement from a hospital foundation member said the current administrator raised red flags based on experience from being involved with other rural hospitals that succeeded with similar dilemmas.
The story made the hospital board sound cohesive. But only one commissioner made a motion to keep obstetrics at that point.
Two commissioners said they wanted the audience to know they heard us and would take our wishes into consideration.
They may hear us, but they do not make sound decisions, allowing the current administration to steer the ship into more dangerous waters.
Check out these facts: When Howard Gamble retired the hospital was $2 million in the black. That is a well-known fact and was part of much debate two years later about what to do at that time that saw the then hospital administrator resign to appease the community and employees. Also the fact that cardiopulmonary is making money and would be a shame to lose it to another facility in another city.
The story that we can only operate now (after several years) with a cardio doctor present doesn't make sense. The current administrator received $25,000 more a year and two more years to continue to destroy what many of my friends and families have worked so hard to build.
Roger St. Clair, Brewster
America founded on belief in God
Just as surely as the Lord told the pastor of the Church at Ephesus he had left his first love (Rev. 2:4), America has left its first love, God.
The U.S. was founded by people who loved God. In 1620, the pilgrims landed near what is today Plymouth, Mass. The first thing they did was erect a cross and prayed for the Lord's guidance and protection. The very beginning of this nation was dedicated to God. Regardless of what revisionists to our history try to say.
Righteousness is the reason for the good things in our nation. Only righteousness will keep freedom coming to us. History shows every time a nation forsakes the Lord, that nation will fall. To assume that somehow America is exempt from that is just plain ignorance gone to seed. Every person needs to take a stand to truth. Gather together in unity. Sleeping Christians, wake up.
This is not the writing of someone who is prescribing a secular holiday. This is an all-out proclamation that everything good came as a result of God's favor. To remember Jesus Christ is the reason for the season. Forgetting where we have come from will keep us from where we need to go.
I'm so grateful for what God has done in this nation. We all should be.
We need to remember who exalted us in the first place. And to be wise when lying leaders try to turn our nation away from God.
Jan Erb, Omak
Omak Christmas fete was best, yet
I was invited to bring my bakery items downtown for the Christmas parade event in Omak.
I thought that was the best parade yet. It took my breath away. Beautiful. It was wonderful to see the community come together for a special event. I won't miss the next one.
The carols after the parade, music, hot chocolate, visit with Santa and Mrs. Claus, all the events taking place inside and out took a lot of work and organization and you are all appreciated.
Linda Swanson, Riverside
Letters to the editor policy
The Chronicle accepts letters to the editor of 250 words or less. Letters must bear the signature and hometown of the writer and a daytime telephone number.


Letters with multiple signatures or sent to multiple publications will not be considered. Letters may not include personal attacks or thank you messages. Letters are subject to editing.
Letters may be mailed to The Omak-Okanogan County Chronicle, Attn. : Letter to the Editor, P.O. Box 553, Omak, WA 98841.
More like this story
Latest stories
Latest video: