Thursday, December 12, 2013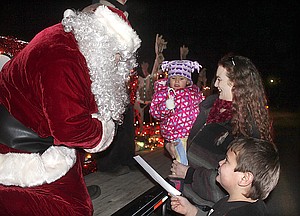 OKANOGAN — Jolly ole St. Nicolas is headed to Okanogan tonight to visit children, hand out candy canes and collect items for area food banks.
This is the third night Santa Claus will tour the Omak-Okanogan area.
Santa (Don Burford) will start on Elmway north of the Okanogan County Public Utility District office and head into town, event coordinator Roger Harnack said.
The route, generally speaking will divided into the north and south halfs of the city.
In the northern area, Santa will head south on Second Avenue starting at 5:30 p.m., north on Third and south on Fourth back to the courthouse, Harnack said.
After the courthouse, he is expected to head south again on Second Avenue, then north on First and south on Fifth, with the tour ending near Virginia Grainger Elementary School before 9 p.m.
"Santa may try to visit a couple other neighborhoods, if time allows," Harnack said.
On the first two nights, Santa visited neighborhoods in Omak. Meanwhile the Erb family also ensured Santa's sleigh visited East Omak, tribal housing developments and Nespelem.
The tour is provided as a community service by the Omak and Okanogan chambers of commerce volunteers and local fire fighters and law enforcement officers.
More like this story
Latest stories
Latest video: