Wednesday, December 11, 2013
Shane Proctor, a Lake Roosevelt High School grad now living in Troutman, N.C, won the first two nights of bullriding at the Wrangler National Finals Rodeo in Las Vegas.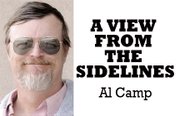 The victories, each worth $18,630, propelled him from 10th to third in the world bullriding standings.
Proctor, the 2011 world champion, was bucked off Saturday after drawing Wicked, which has not been ridden in 23 attempts.
"I feel like I did during the regular season of 2011," Proctor said in an interview posted by the Standard-Examiner. "Not at the NFR that year, because I didn't have a great NFR. This is my third year at the NFR and these last two nights have been my two best rides here ever.
"I do feel like I'm riding at that same high level as when I won the world."
Proctor trailed world leader J.W. Harris by about $25,000 going into the weekend.
Harris responded with a second in round 3 and a first in round 4 to move back in front with $171,548.96 in winnings compared to $113.118.46 for Proctor.
Proctor trails No. 2 Tyler Smith by $7,000 in bullriding and is No. 4 in the all-around ($122,643.12).
Proctor remains in contention for the Top Gun Award, which goes to the contestant who wins the most money in a single event.
Proctor prepared for the Wrangler National Finals Rodeo by scoring a 90-point ride on Pound the Alarm at the Professional Bull Riders Finals in October.
Kelly Neely, a 1984 Okanogan High School graduate, called the offensive plays for Freeman (14-0), a 31-13 winner over Mount Baker in the 1A state football championship Saturday.
"Surreal," Kelly said of the Scotties' first-ever state crown. "What an awesome feeling. Like we told them, this is the culmination of a great year."
He credited Freeman's winning to lifting weights in an APX Strength program 6:30-8:30 a.m. four days a week during the summer.
In other title tilts, Lind-Ritzville/Sprague finished the season undefeated (13-0) with a 7-0 defensive gem over Morton/White Pass (12-1) in the 2B championship Saturday.
This was the third-straight state championship loss for MWP, which was 34-4 over that span.
Also Saturday, Chiawana edged Camas, 27-26, for the 4A state championship and Lynden knocked off Tumwater, 38-28, for the 2A crown.
Neah Bay avenged its loss in last year's championship with a resounding 36-18 victory over Touchet in this year's 1B title game Friday.
The Red Devils have won the championship two of the past three years.
Bellevue Christian extended its state 3A titles to six straight with a 52-20 win over Eastside Catholic.
Mikey Piechalski of Pateros was named to the first team on offense and defense in the Northeast 1B League, southern football division.
Piechalski, a junior, was named on offense as an all-purpose player, reflecting on he could throw and rush, coach Marcus Stennes said.
On defense, Piechalski was named at linebacker.
Lance Evans, a senior, was named to the offensive first team as a wide receiver/tight end. On defense, senior Jorge Caballero was named to the first team as a kicker and punter. He was an honorable mention as a running back.
Honorable mention:
• Jon Gelstin, senior, offensive line.
• Carlos Ceniceros, junior, wide receiver/tight end and defensive back.
• Dakota Salcido, senior, defensive line.
uuuuu
If you are replenishing your fly fishing flies this winter, I know a great short cut.
Pat's Flies will be part of the Conconully Ladybugs' Christmas celebration 1-5 p.m. Saturday at the Conconully Community Center, 219 Main St.
Santa will arrive, too.
Al Camp is the sports editor for The Chronicle. Email him at sports@omakchronicle.com.
If you like voting for athletes, consider the nominees for the 79th annual MTR Western Sports Star of the Year.
The possible stars, announced Thursday by the Seattle Sports Commission, is a collection of the Northwest's premier athletes.
Every January, this event honors the athletes, coaches, media figures and stories in or from Washington state for their achievements during the previous year.
Since its creation in 1936, there have been nearly 100 Sports Stars honored at this event.
Fans can vote for their favorite nominee in the male, female and sports story of the year categories online at www.sportsstaroftheyear.org.
Voting continues through Jan. 15, 2014.
Winners will be announced during the event Jan. 22.
Female nominees include Joan Bonvicini (Seattle University women's basketball head coach), Krista Vansant (UW volleyball), Marti Malloy (USA judo), Melissa Arnot (record holding Mountaineer), Micaela Castain (WSU soccer) and Tina Thompson (Storm basketball).
Male nominees include Bishop Sankey (UW football), DeAndre Yedlin (Sounders FC), Hisashi Iwakuma (Mariners pitcher), John Lester (Red Sox pitcher), Russell Wilson (Seahawks quarterback) and UW men's soccer.
Story nominees include Eastlake Little League, Husky Stadium, UW volleyball, UW crew, Seahawks run and Seattle University men's and women's soccer.
There will be a Jingle Bell Jog at 11 a.m. Saturday at East Side Park in Omak.
Registration is 10-10:45 a.m.
You walk or jog a half mile or two-mile course.
Entry fee is food for the Food Bank.
Sponsors are Fit for Life Community Coalition, Omak School District's Xtreme Challenge and Gene's Harvest Foods, said spokeswoman Racie McKee.
The Fitness Academy, 14 S. Main St., is planning an open house noon to 3 p.m. Dec. 14.
There will be a martial arts Tae Kwon Do demonstration at 1 p.m. by Okanogan Valley Martial Arts.
There also will be door prizes for adults and a children drawing plus organic desserts by Michelle Laurent.
New yoga teacher Lois Sims of the School of Yoga will be there.
More like this story
Latest stories
Latest video: