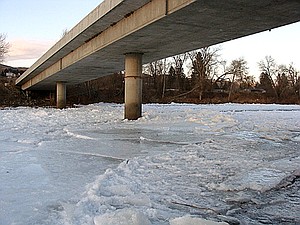 OMAK — Following a week of frigid temperatures and sub-zero wind chills, the National Weather Service is predicting a change of snow for the Okanogan Valley and the Grand Coulee area this week.
Although snow has fallen in the Wenatchee Valley, the U.S. Highway 97 corridor from Pateros to Oroville has yet to receive any accumulation. Desautel Pass, between Omak and the Grand Coulee area, has also been spared any snowfall.
That could change Thursday night, the National Weather Service said, with a 50 percent chance of snow predicted for both the Okanogan Valley and Grand Coulee areas. Residents could see snow sooner, however, with a slight chance predicted for Tuesday night.
With the chance of snow also comes more moderate temperatures, with overnight lows rising into the upper 20s and daytime highs hovering just above freezing by the end of the week .
According to meteorogists, overnight lows are expected to be higher beginning Tuesday night, with temperatures only dipping to upper teens.
Last week, overnight lows dropped to near 0 degrees on the valley floor, officials said. In Tunk Valley, a reader reported temperatures had dropped to at least minus 2 degrees.
Tonight, the overnight low in the Okanogan Valley is expected to be about 10 degrees, the National Weather Service said.
More like this story
Latest stories
Latest video: