Wednesday, December 4, 2013
Kara Staggs of Okanogan is tearing up the basketball ranks while playing for North Idaho College in Coeur d'Alene.
Staggs, who moved into the starting lineup after Georgia Stirton from Australia suffered a knee injury, played well for NIC in its going 3-0 at the Cardinals' Thanksgiving Classic last weekend.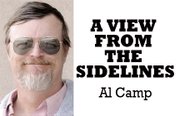 Staggs scored a game-high 23 points Sunday in helping lead NIC to a 68-44 thrashing of Williston State College out of Williston, N.D.
Staggs was 7 of 8 on 3-pointers and 8 of 11 from the field for NIC (9-1), which is on a six-game winning streak.
"She's been stringing a few together," NIC coach Chris Carlson said in a Coeur d'Alene Press story. "She stepped in when Georgia (was injured), and rose to the occasion. She's been playing better and better and better, and seizing the moment."
Both teams entered the game 2-0 in the round-robin tournament.
Staggs produced 13 points, 6 rebounds, 3 assists and 2 steals in a 72-55 win over Community Colleges of Spokane (3-3) on Saturday.
The Cardinals opened the tournament beating Wenatchee Valley, 69-50, on Friday.
The Wyoming All-Stars handed the road-weary Lady Cardinals their lone loss of the season, 80-63, Nov. 16.
NIC had suffered four injuries in the two previous games and had another player home ill for its third game in three days.
Caitlyn Behymer of Okanogan had 6 rebounds against the All-Stars.
Staggs started coming on strong in a 76-62 win over Dawson Community College out of Montana on Nov. 22.
She led the team with 15 points.
On Nov. 22, Staggs led again with 16 points in a 76-57 win over Sheridan College from Wyoming.
Staggs and Behymer are both freshmen.
The women's team plays the NIC All-Stars Dec. 7 at home before heading on the road against Utah State University in Price, Utah, on Dec. 12, Colorado Northwestern Community College in Rangely, Colo., on Dec. 14 and wraps up with the Holiday Classic at Lower Columbia College in Centralia on Dec. 27-29.
The Region 18 Tournament runs Feb. 27-28 in Ephraim, Utah.
NIC is shooting for the NJCAA National D1 Tournament on March 17-22 in Salina, Kansas.
All league players from Curlew High School were received after the publication of the Nov. 27 and Nov. 24 papers.
Twins Haleigh Gibson and Lindsey Gibson, who are both juniors, were all league in volleyball.
Senior Olivia Volluz was honorable mention.
Senior Kolten Fanning made first team on defense in football.
Gunner Brown, a junior, was an honorable mention on offense.
Nordic skiing in the lower Methow Valley has yet to materialize, but there is snow on Washington Pass that is making for good backcountry skiing and snowshoeing.
The lower valley remains good, for now, for mountain biking and trail running, a report from Methow Valley Sport Trails Association said.
Some smaller lakes are frozen, which makes for great ice skating.
A Methow Valley Sport Trails Association magazine was expected any time in valley mailboxes.
The association also announced a free smartphone app available for the iPhone and Android, and an iPad grooming app.
The association is on Facebook and online for the latest ski news.
Scott Bacon, a Republic High School graduate, is starting his junior year wrestling for Boise State University.
Last year he was 18-12.
Bacon was one of five Republic wrestlers to win a state title in 2010. The Tigers would finish fourth as a team.
Speaking of apps, the U.S. Forest Service offers an app with a variety of digital visitor maps for Android and iOS devices.
"This mobile app makes it easier than ever to plan your visit to a national forest or grassland," said U.S. Forest Service Chief Tom Tidwell. "By putting important forest information right at your fingertips, it will encourage more Americans to get outside and explore their forests."
The digital maps are part of the United States Department of Agriculture's work toward reaching President Obama's initiative to create a paperless government that also provides the American public with better, more accessible information.
The Forest Service is currently working on the first phase of a website redesign, expected to debut early in 2014, which centers on a map-based tool for planning trips onto our nation's forests, grasslands and other special places, Tidwell said.
The free PDF Maps Mobile App, which provides access to Forest Service maps such as motor-vehicle use maps, is available from iTunes and the Android Play Store.
There is a charge for pages from national forest atlases and forest visitor maps.
Voting has started in the USA Today's Ultimate Athlete contest, where the winning athlete's athletic department will receive a $1,000 donation.
Click on Ultimate Athlete tab to see finalists and vote online at contest.usatodayhss.com.
The athletes are grouped into eight regions based on the first letter of their last name.
Regional voting ends Friday.
The semifinal voting runs Dec. 9-16 and finals are Dec. 17-22.
For Washington State, there is Anna Paradee, 17, from Decatur High School in Federal Way in diving, gymnastics and pole vault, and from Bellarmine Preparatory School in Tacoma there is Alivia Brown, 18, in golf and Mathew Philichi, 17, in football.
Al Camp is the sports editor for The Chronicle. Email him at sports@omakchronicle.com.
More like this story
Latest stories
Latest video: