Wednesday, December 4, 2013
My how time flies, at least within the state Department of Fish and Wildlife.
In the last few weeks, we've reported on the Haeberle family's dismay at the agency's attempt to use their ranch to boost Fish and Wildlife's land acquisition efforts.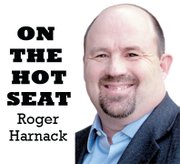 At the heart of the issue is a claim the Haeberles requested Fish and Wildlife buy their land and the family claims the agency statement is false.
Last week, our staff was provided with a copy of a March 1991 letter showing former family patriarch Buck Haeberle indeed allowed the agency to come on the property to evaluate and appraise it in conjunction with a sharp-tailed grouse project.
The form letter — presumably written by the agency with Buck filling in the blanks — says the agency may make a fair-market value offer. The letter, however, stops short of requesting any purchase as Fish and Wildlife would have you believe.
A Fish and Wildlife response written seven months later — provided to us from a different source — says the agency had discontinued the grouse program, and therefore any reason to evaluate and appraise the land.
In the response, the agency says it'll keep the letter on file. And that's where I started my column — my how time flies.
In the 22-plus years since Buck filled in the blanks, a lot has changed, most notably the landowner. Rod Haeberle is now the patriarch, landowner and decision-maker. Fish and Wildlife was very cognizant of that fact and the agency very clearly knows who Rod is because of his adamant opposition to state acquisition of any farmland.
The state's claim that the family wants to sell the ranch is disingenuous at best. At worst, it's outright deceitful.
If the agency's "experts" were doing their jobs, they would've first checked the deed to make sure the 22-year-old letter was written by the current owner.
So, either they didn't do their job or they intentionally omitted that fact so they could fraudulently seek more funding and acquire more property. And the state wonders why Fish and Wildlife is viewed with distrust.
Fish and Wildlife has bigger problems than just being disingenuous about the Haeberle ranch. Two weeks ago, the Washington Farm Bureau generally solidified its opposition to state acquisition of farmland.
That decision was based, in part, on stories from across the state similar to the Haeberles'.
The Farm Bureau is demanding a change from the agency and its employees. So should we.
Roger Harnack is the editor and publisher of The Chronicle. He can be reached
at 509-826-1110 or via email
at rharnack@omakchronicle.com.
More like this story
Latest stories
Latest video: