Tuesday, December 3, 2013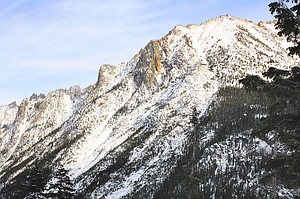 MAZAMA — North Cascades Highway is closed for the winter.
State Department of Transportation spokesman Jeff Adamson said Tuesday morning that crews evaluating the condition of the highway through Washington Pass were stopped by a snow slide 150 feet wide and 12 feet deep. More snow was cascading on two nearby chutes.
"The avalanche crew and folks from our Twisp shed were only able to get up as far as Liberty Bell Mountain and had to turn around and come back," he said. "It's not safe for anyone to try to go up there and clean up."
About three feet of snow piled up in Washington Pass between Sunday and Monday morning, prompting Transportation to temporarily close the highway at 3 p.m. Sunday. The state elected to keep it closed overnight Sunday and Monday.
"I'm sure everybody was happy that it was open all the way through Thanksgiving," Adamson said. "Typically, if it's open past Thanksgiving, I'll get telephone calls from people who own businesses up there who say, 'Thanks for keeping it open.'"
Last year, the highway - also known as state Highway 20 - closed Nov. 20. The state typically reopens it in May after spending weeks clearing snow, but earlier this year it reopened April 16.
More like this story
Latest stories
Latest video: