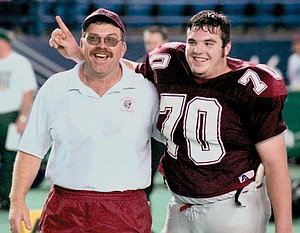 Longtime Okanogan coach Denny Neely announced last week he is retiring from coaching as of today.
"It has been my honor and privilege to represent the Okanogan community," Denny said of wrapping 31 years with Bulldog sports.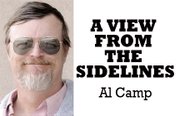 "We really appreciate the time and dedication Denny has given us throughout his coaching career," Athletic Director Steve Chamberlin said.
Denny's wife, Madonna, chuckled and said maybe her hard-working husband could now chip in with the cooking.
"I am just real proud of him for all the time and effort he put into Okanogan athletics," Madonna said. "I think he's done a really good job.
"We've had a lot of kids come through here," she said of pre-game football dinners at the couple's house. "They always seem to remember the dinners here."
Denny, 62, brought the school its lone state football championship (1999) along with four straight trips to the state playoffs (1997-2000).
"Winning the state championship (28-0 over Kalama) with my son (Tyler) and that group of kids, that's definitely a highlight," Denny said. "That was an exceptional group of players."
Okanogan was not picked by any newspaper or newsletter to beat Kalama (which beat Okanogan 14-6 a year earlier in the title game). The picks made some sense since the Chinooks had been averaging 55 points and 500 yards of offense a game.
"We held them to under 100 yards (90 total) of offense," Denny said with a grin. "That was almost the most perfect game I ever coached."
The Bulldogs ruined the chance of Kalama's Josiah Wilfong to move up the all-time state rushing list. He entered state 42 yards away from No. 3. He lost 10 yards on 9 carries.
Denny is especially proud of Okanogan's tradition of being a hard-tackling team.
"We take pride that teams know, win or lose, that they are going to be hit," he said. "That's our philosophy."
Although Denny has coached other sports, he's especially fond of football. He graduated from Okanogan in 1969 (he played mostly nose guard), played a year for Olympic Community College in Bremerton and started as an unpaid volunteer football coach in 1982.
Denny coached the varsity football team 16 years (1995-2011). He's also been an assistant softball coach for three years.
Denny is stepping aside as of today from being an assistant football and assistant girls basketball coach at the middle school.
"I'm going in a new direction from athletics to the academic," he said. "It's time for me to go and give younger coaches the opportunity to coach."
Denny has been teaching history the last three years to seventh- and eighth-graders. Before that he taught social studies.
Outside of school, Denny has been taking middle school students on a field trip to Washington, D.C., the last two years. Another trip with as many as 30 seventh- and eighth-graders is planned for this spring.
"I think every American should have the opportunity to go to Washington, D.C., and visit the national capitol," he said.
Denny's future, following a hip replacement New Year's eve, also includes more time for gardening, rock hounding and fishing, he said.
"And watching my nephews play and watching my brother (Kelly) and son (Tyler) coach," he said.
Tyler is an assistant for football, wrestling and baseball, and a counselor at Almira/Coulee-Hartline.
Kelly is the offensive coordinator at No. 3 state-ranked Freeman (11-0), which played No. 5 Cashmere (11-1) Saturday in a state 1A football semifinal.
"They are carrying on a tradition," Denny said. "They are both giving back to the sport."
The Neelys' daughter, Kate, is married and working for Chase Bank in Spokane.
Denny's eyes welled up at the end of our interview, as he said, "The biggest regret in all my coaching was not being able to share it with my brother, Ron."
Ron Neely passed away in 1977.
"He was an inspiration," Denny said. "He was a fanatic fan and gave total positive support."
Al Camp is the sports editor at
The Chronicle. Email him at sports@omakchronicle.com.
More like this story
Latest stories
Latest video: