Wednesday, August 28, 2013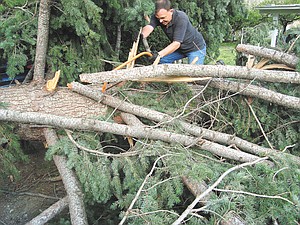 COULEE DAM — A powerful storm cell ripped through the area Sunday night, downing trees, damaging buildings and knocking out power.
State Highway 155 was closed above Grand Coulee Dam for more than an hour as crews cleared two large trees and power lines from the roadway.
"They weren't allowing traffic through either way," town Utility Clerk Lori Oles said Monday morning, noting at least four toppled trees caused property damage in that town. Damage was also reported in the city of Grand Coulee.
According to Oles, crews have been working nearly around the clock to reopen streets, get power back on and assist residents.
Okanogan County Sheriff Frank Rogers said storm damage in the region was mostly limited to the Coulee Dam area.
"Apparently, they still have power out over there in certain areas," he said Monday. "I guess downed trees caused it."
"Electric is still out in most of west Coulee Dam," Oles added. "It'll be out most of the day."
Nespelem Valley Electrical Coop was assisting city utility crews.
Power was also knocked out at Grand Coulee Dam – the largest power-producing facility in the U.S. – for about a half-hour Sunday night.
"That just points to the importance of power lines and transformers," Federal Bureau of Reclamation spokeswoman Lynne Brougher said, noting there wasn't any storm damage to the dam itself.
Tripped breakers led to a power outage at Grand Coulee Dam. As of Monday, power to the dam had been restored, but not to the visitors center and west Coulee Dam. The laser show was canceled Monday and Tuesday and was expected to resume when power is restored.
Brougher said the dam has three generators with supply west Coulee Dam and the dam itself with power. And without power lines and transformers, "you're in the dark."
Reclamation oversees dam operations.
Trees fell in town near the base of the dam, in several areas around town and above the dam in the city of Grand Coulee.
Police and other authorities rerouted traffic around trees and downed power lines.
Coulee Dam resident Joan Sterley said the storm caused havoc on Aspen Street, where she lives.
"It is a mess," she said Monday morning after surveying the damage. "I've got part of a tree on my house."
Her neighbors were busy cutting up the downed tree in an effort to clear her carport and others.
"It hit the carport and rolled right off," Kevin Johnson said as he cleaned up debris around his father's home, across from Sterley.
Johnson said he was at his father's when the storm hit and the tree fell.
"It went snap, crackle, pop and over she went," he said of the tree. "There was no warning."
A couple blocks away, Nick Barnaby was helping clean up his street.
"It was pretty crazy," he said, pointing to his neighbor Gina Seaver's house on Cedar Street, where a large tree was uprooted, but missed homes, cars and a basketball hoop. "It came down in the middle of the road."
Seaver was home at the time the tree was uprooted.
"We heard a crash, and the big tree came down," she said.
The 128-foot tree peeled some of the siding off her house and uprooted flowers, but caused little other damage.
"God is good," she said. "Nobody got hurt. Nobody else's property was damaged. And look, the basketball hoop is still standing.
"I best go call my insurance company."
Oles also reported trees down on First, Spruce, Tilmus and other streets.
"We've got quite a few down," she said. "And we have power lines down."
At least two businesses in town – including the lone gas station and Coulee Dam Casino – were closed Monday.
The gas station was closed due to the power outage, Oles said. And the casino at 516 Birch St. was closed because of roof damage.
At the casino, wind gusts peeled the metal roof back, wrapping it around a rooftop sign. The parking lot was cordoned off to allow crews to clean up debris. Colville Tribal Federal Corp. Chief Executive Officer Joe Pakootas was unable to be reached for comment by press time, but other tribal officials were optimistic the casino would only be closed a couple days.
In the city of Grand Coulee, damage was more limited.
According to information released by the Grand Coulee Volunteer Fire Department, power lines were down on Roosevelt Drive, Mead Avenue and in a few alleys.
In a few areas, trees were also reportedly on vehicles, including locations on Second Street and Hill Avenue, where the toppled tree smashed a windshield.
A tree also fell on a Weil Place home, the department reported.
Outside the city, at Lakeview Terrace Trailer Park on Spring Canyon Road along state Highway 174, trees had reportedly fallen onto four trailers.
"We had reports of multiple trees down at Lakeview Terrace," National Weather Service meteorologist Ryan Fliehman said Monday. "Two mobile homes were damaged."
As of press time, no injuries had been reported.
According to Fliehman, the damaged was caused by "straight line winds" and heavy rain stretching from Pendleton, Ore., into British Columbia.
In North-Central Washington, the Weather Service recorded wind gusts of 46 mph in Moses Lake and 33 mph in Omak. Strong gusts were also recorded near Colville and Spokane, Fliehman said, adding "Wenatchee was shielded by the Cascades."
"It was a pretty wide-spread event," he said, noting the Coulee Dam area was "one of the hardest hit."
The area had a "lot of wind and a lot of downed trees," he said. While reports of downed trees were coming in from the Coulee Dam and Colville areas, he said National Weather Service officials hadn't yet received any information out of Ferry County.
"But I'm sure the winds kicked up quite a bit," he said.
Ferry County Public Works officials said they had not received any reports of storm-related damage.
Officials there were happy with that, noting they didn't want a repeat of the July 20, 2012, storm that killed one person and left large portions of the county without power.
That straight-line storm prompted then Gov. Christine Gregoire to declare a state of emergency for 16 counties in Eastern Washington.
Latest stories
Latest video: